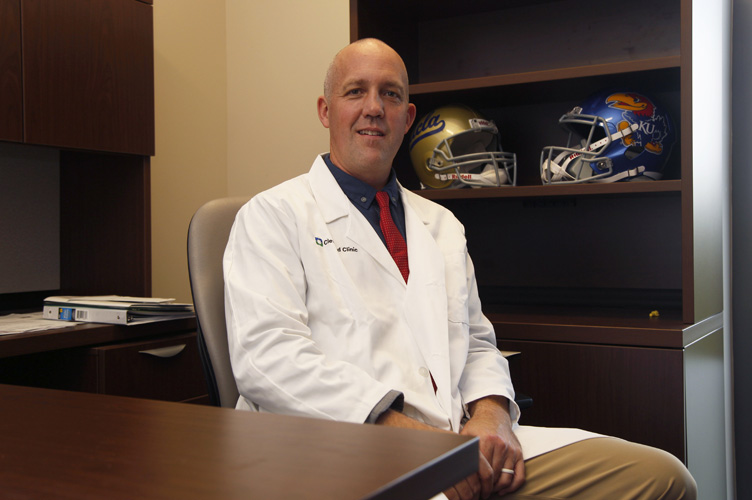 According to Johns Hopkins Medicine, "almost one-third of all injuries incurred in childhood are sports-related injuries," and it shouldn't surprise anyone that as we age into our senior years those numbers don't get any better.
"Most sports injuries," says Hopkins, "are due to either trauma or overuse of muscles or joints," and as the National Institutes of Health points out, "illness and aging both cause many structural and functional alterations in the human body, rendering elderly people liable to overloading of the musculoskeletal system."
NIH adds that "immobilization and inactivity have an even more deleterious effect on those structures and functions." So it is good to stay active – despite the risk of injury – and with golf, tennis, pickle ball, running, hiking, sailing, gyms and a panoply of other exercise-related options available, it just might be that Vero's seniors are as active as younger residents.
Newly arrived orthopedic surgeon Dr. Clay Greeson has already grasped that dynamic and is eager to put his extensive sports medicine skills to work here.
After graduating medical school at the University of Kansas, this tall, athletic-looking physician did his orthopedic residency at the Cleveland Clinic in Ohio and then went on to UCLA for a sports medicine fellowship.
And he doesn't lack confidence.
"My take on Vero Beach," says Greeson, "as well as the Florida Coast in general, is that for both adult orthopedic needs as well as sports medicine needs, it's a wide-open field and no one's really put everything together to appreciate what's here.
"I trained at the Cleveland Clinic," he continues, "where we had a very robust sports medicine program. We took care of pretty much every high school [and college] in the area. There's nothing like that here."
At least not yet.
"The great thing about sports medicine," Greeson says, "is we can take care of all of those things whether it be something that takes place in a major league baseball player or someone that's playing golf" at their favorite golf course.
Greeson runs through a kind of checklist of why orthopedics in general and sports medicine in particular has gained increasing popularity with all age groups, including better, less invasive surgical techniques, robotic-assisted surgeries, better prosthetics, better understanding on how the ligaments, muscles, bones and other structures in the body work, and how they all respond to injury and to treatment.
That's especially true of muscles because, as NIH says, they are the most commonly acutely injured tissues among active elderly athletes and that the lower extremities are the most susceptible to injury.
Greeson has only been a part of Cleveland Clinic Indian River Hospital for a short time, so he artfully dodges a question about how the orthopedic program here might evolve.
When pressed, however, he does admit "my hope is it would be a lot like what we did in the Cleveland, Ohio, area.
"You build your team. You get your system together. You get the right type of people around you. And once you do that, you can start that umbrella where you incorporate all the people around it – meaning your orthopedic sports medicine professionals, your PAs, your nurse practitioners, your primary care sports folks, your internal medicine folks, your ER, neurology-trained folks – because it takes a large, encompassing system in order to make it work the right way."
Greeson had only been in Vero Beach seven days when he bought a home here, and he admits, "I'm a pretty decisive person. I don't like to dilly-dally."
That should be great news for Vero residents of all ages who suffer the sprains, strains and worse that occur while keeping themselves active and fit – no matter what age they are.
Dr. Clay Greeson is an orthopedic surgeon and sports medicine physician with Cleveland Clinic Indian River Hospital. New to this area, he is now accepting new patients. His office is in the hospital's Health & Wellness building at 3450 11th Court in Vero Beach. The phone number is 772-794-1444.