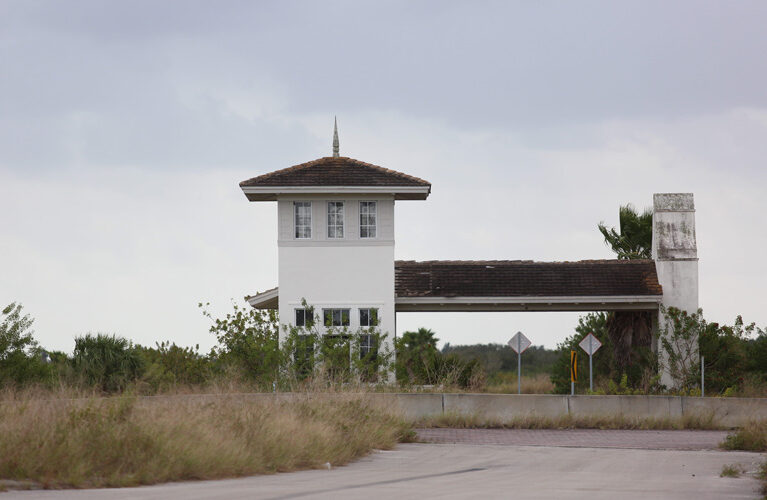 Eight years into a strong real estate recovery and expansion, most of the Indian River County subdivisions that failed during the 2007-2011 housing downturn have been snapped up by developers. New homes are going up in some, while others have been built out and are now maturing residential neighborhoods with kids riding their bikes along streets that to them have always been there.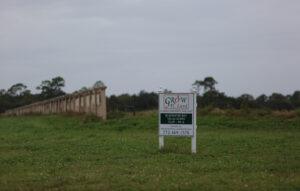 But other major failed projects still lay fallow, with perimeter walls and underground infrastructure slowly aging as weeds and scrub reclaim the land that was cleared years ago by optimistic developers with dollar signs in their eyes.
Four of the largest fallow projects lay along a seven-mile section of Route 510 that runs from the Wabasso Causeway west to where the road makes a 90-degree bend at Vero Lakes Estates and extends north past Sebastian High School to merge with Route 512.
John McCoy, chief of current development in Indian River County, calls these projects zombie developments, which generally means they aren't completely dead, even though little or no activity is taking place.
It's how he describes Bluewater Bay, Sebastian Park, Liberty Park and Orchid Quay, formerly known as Bristol Bay.
"Each has its own story," McCoy said of the long-planned but not executed subdivisions.
Bluewater Bay sits farthest west along the 510 corridor, directly across from Treasure Coast Elementary, surrounded by a concrete wall often tagged by vandals. The 141-acre development is approved for 425 homes but none has been built.
The tract was assembled in 1999 from three parcels at a cost $1.2 million by Yukon Land Corporation. In 2006, at the peak of the real estate boom, Yukon sold the property for $6.5 million to 510 Group LLC, an entity that built the perimeter wall, retention ponds and roads before the real estate collapse.
Today, the subdivision tract is owned by Premier Citrus, an agricultural business, though company president Tom Jerkins couldn't fully explain why. Apparently, the company got the land through a corporate acquisition of another company that bought it at some earlier point with the intent of planting homes instead of orchards.
"We hope to hand it off," Jerkins said, meaning sell it to a developer or builder. He noted Premier Citrus is not in the business of building, nor does it want to be.
The property is currently listed for sale with a purchase price of $12 million with approximately $8 million worth of site work already done. Marketing materials show lot prices could be $30,000 and homes could start around $300,000.
Jerkins said he's been working with prospective builders and developers as well as with the county to get the plans up to date.
"You have to muddle your way" through the process, he said.
One hurdle that must be overcome before the subdivision can be built is a dispute over a proposed roadway Bluewater Bay would share with Sebastian Park, a similar-sized planned development that borders it to the east, on the north side of 510.
McCoy explained that the two developments would need a shared access road, requiring right of way from both developments. Without the road, neither project can move forward.
Sebastian Park is 145 acres and was approved for 400 single family homes, according to county records, but no site work has been done and the owner has shown no recent interest in moving forward with the development, according to McCoy.
Carlos Ballbe, registered agent for the property, told Vero Beach 32963 he would not comment on the project.
"I am sorry, but I am not interested in reporting news regarding Sebastian Park," he wrote in an email dated Dec. 11, 2019.
McCoy said it would be possible for Bluewater Bay to adjust its site plan to route the needed access road along its eastern border without the use of Sebastian Park's land but doing so would alter the map in such a way that fewer homes could be built.
A couple of miles east of Bluewater Bay, on the south side of 510 where it intersects 66th, another major development remains in "zombie" mode.
Liberty Park, a massive planned development that would surround Liberty Magnet Elementary School, encompasses more than 500 acres – nearly a square mile – and is projected to include more than 900 homes and 200,000 square feet of commercial development.
The property is owned by Vero Beach-based Ryall Development Group LLC, which purchased it for $24.3 million in 2005.
Andrew Kennedy, the owner's agent for the project, said the development team is tweaking plans but all is "pretty much status quo" for the development – meaning it remains in limbo for the time being.
Kennedy said the project, like many others, was impacted by the downturn in the economy and collapse of the housing market.
"It has to run its natural course," he said, noting that, in time, market conditions will be ripe for Liberty Park to break ground.
"We're plodding along patiently," Kennedy said.
Meanwhile there have been recent signs of life at Orchid Quay, a 113-acre development located at the southeast corner of the U.S. 1 and 510 intersection, the second-busiest intersection in the county.
The residential and commercial project includes $5 million worth of water, sewer and electrical infrastructure that was put in more than a decade ago when the development was called Bristol Bay.
At one time, Orchid Quay included plans for 350 condos and townhomes and 250,000 square feet of retail space that would have come in the form of a shopping center along U.S. 1.
The property is owned by Newport Beach-based IHP Capital Partners and the Orchid Quay project is listed on the company's website as "active." On Oct. 21, the firm or a potential buyer filed a pre-application for a multifamily residential development at the site.
"It's a good location," McCoy said.
A pre-application typically is used to determine whether the general idea for the project would be supported at the county.
The project planner listed on county paperwork is Kimley-Horne's Peter Van Rens but he did not return multiple phone calls seeking comment about the state of the project.
McCoy said he typically sees a pre-application on file for about a year before the buyer/developer comes back with more detailed plans.