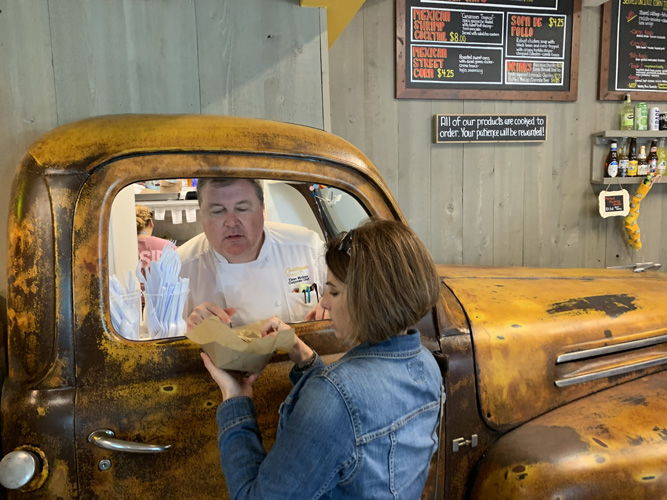 Of the many challenges faced by new restaurants, one that few have to deal with is too many customers. But this past week, hungry tourists and locals alike were spilling out the doors of El Sid Taqueria, the new Ocean Drive taco joint owned by the Bannack family that operates the adjacent Countryside Citrus market.
Headline news: The Mexican dishes at El Sid Taqueria – inspired by Sidney Banack (hence El Cid with an "S") and created by long-time Ocean Grill chef Timm McGraw – are on the whole excellent. The ingredients are local and fresh, and the dishes are prepared to order. This is certainly the best Mexican food to be found on the island. But alas, even though it is open until 9 at night, El Sid is not a place you'd go for a sit-down dinner.
Look & Feel: The Bannack family has creatively redesigned their citrus, juice and ice cream retail market to accommodate the taco joint, cleverly installing the body of an antique Ford pickup truck as part of the taqueria serving area. But the inside dining space is cramped, with just nine counter-top seats, and dining on the deck outside – where there are 12 seats – has the feel of picnicking. It's OK when the sun is shining, but there's no place to hide if it starts to rain.
Food: Last week, our party of four sampled an assortment of dishes.
We started with house-made tortilla chips and guacamole ($8), which was sensational. The chips were hot and fresh, and the guacamole had big chunks of avocado. Very tasty.
We then sampled five different tacos – the char-grilled marinated chicken, the triple j, the seared steak, the braised pork, and the WTF (we were assured that stands for Weekly Taco Favorite). The WTF on this occasion was a mahi taco.
All of the tacos come in corn tortillas, and include shaved cabbage, feta cheese, radish, onion, cilantro and a lime wedge. Of the five tacos, highest marks from our group went to the pork, the mahi and the triple j – which is a vegetarian taco with black bean puree, grilled portobello mushrooms, rajas poblanos and onions.
We also tried a steak quesadilla in a flour tortilla (not our favorite) and the braised short rib empanada (a huge hit – delicious).
Drink: Adult beverages here consist of bottled Mexican and domestic beers.
Service: Given the somewhat chaotic scene, the servers taking orders were amazingly patient.
Prices: Prices range from $4 for tacos up to $8 for a Mexican shrimp cocktail, with dishes like quesadillas ($5) and empanadas ($6) in between. Lunch for four was $70.
Initial impressions: This is a fine place to grab a quickie lunch if you are shopping on Ocean Drive, and if you are into Mexican takeout, an assortment of these dishes will make a tasty dinner.
I welcome your comments, and encourage you to send feedback to me at tina@verobeach32963.com.
The reviewer is a beachside resident who dines anonymously at restaurants at the expense of Vero Beach 32963.
El Sid Taqueria
Hours: Daily, 11 a.m. to 9 p.m.
Beverages: Beer & Wine
Address: 3300 Ocean Drive, Vero Beach
Phone: 772-234-8299