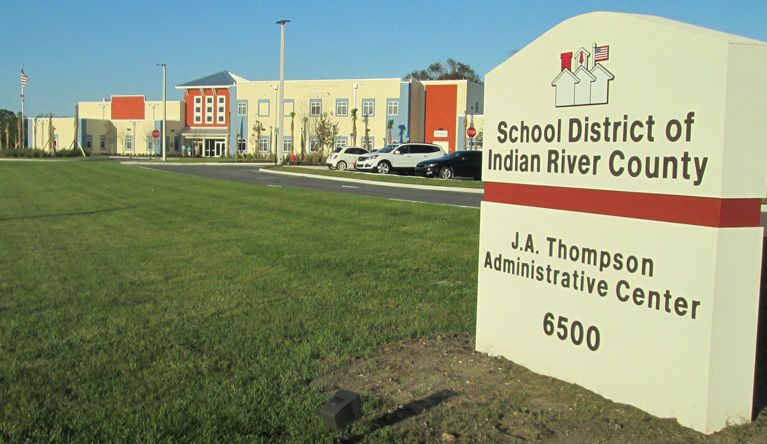 Recently obtained text messages have revealed that an out-of-town teacher's union representative was investigated by the Sheriff's Office after he attended a School Board meeting in Vero Beach in February. The man, Eli Barrett, claims a detective followed him after the meeting and called his cell phone and questioned him the next day.
Barrett told his Communication Workers of America (CWA) supervisor that he believed the detective was trying to intimidate him, though he offered no reason as to why.
"He said the detective who was at the meeting called the next evening and wanted to know why he was there, what he was doing in Vero Beach, who they could call to verify he was with the CWA – stuff like that," Manny Hartman, a South Florida-based CWA District Organizer.
"The detective told him somebody complained that he was acting suspicious at the meeting and nobody knew who he was," he added. "Then, when he went to dinner, the same detective who was at the meeting showed up at the same restaurant, but he didn't order anything. He just looked around and left.
"That's quite a coincidence."
Hartman said he and Barrett were in Vero Beach for meetings Feb. 27 with members of the CWA, which represents the school district's support staff employees.
Barrett, a longtime Gainesville resident who graduated from the University of Florida in 2018 and was working as a CWA campaign assistant, did not want to be quoted for this story.
However, he confirmed he attended the Feb. 26 School Board meeting and verified Hartman's account in a statement emailed to Vero Beach 32963.
Barrett wrote that Sheriff's Office Detective Ismael Hau called him shortly after 7:30 p.m. Feb. 27, asking for him by his full legal name and following up with questions about his affiliation with the CWA.
He stated that his only interaction with Hau at the meeting was when they passed each other at the water fountain and the detective offering a passing remark that the room was dry.
Barrett wrote that, after his phone call with Hau, he went to dinner at Chipotle Mexican Grill on State Road 60, west of 58th Avenue. There, he claimed that as he was leaving the restaurant, he walked past the detective, who entered through the exit door as it closed after him.
Minutes later, he wrote, he was stopped at a traffic light when a Sheriff's Office patrol car pulled into the lane next to him. Though he was unable to see the driver's face, he stated that the patrol car that was parked in the Chipotle lot was no longer there.
Sheriff's Maj. Eric Flowers, the agency's public information officer, said he spoke with Hau – he's now working for the Martin County Sheriff's Office – who said he didn't follow Barrett.
"He also advised that he did not eat at Chipotle that night," Flowers said, "and did not have anyone else in patrol follow him."
It was Flowers who alerted Hau to School Board member Tiffany Justice's concerns about Barrett at the meeting, where the detective was assigned to provide security.
Justice texted Flowers a surveillance-video photograph of Barrett, accompanied by a message that read: "Not loving this tonight."
Flowers, who had been at the meeting earlier in the evening, texted back, informing Justice that School District Public Information Officer Cristen Maddux already had sent him photos of the man and that the deputy assigned to the meeting would run his automobile tag number.
"I feel so vulnerable sitting up there," Justice responded.
When asked about the incident earlier this month, Flowers said Hau approached Barrett, and that the visitor alternated between sitting and standing, occasionally walking in and out of the chamber.
"We were a little uncomfortable," Maddux said, "because nobody knew who he was."
Hartman said Barrett was walking in and out because he couldn't get a strong cell-phone signal inside the chamber and "I was supposed to meet him and I was calling him to let him know I was running late."
Flowers stands by his decision to request that Hau check out Barrett, who, by the way, no longer works for the CWA.
"As I stated before, I received a complaint of a suspicious person at the Feb. 26th School Board meeting," Flowers wrote in an email last week. "I passed that information on to former employee, Detective Ish Hau, to handle, since he was working the detail that evening.
"The purpose of our details at the School Board meeting is to ensure the safety of the public and employees of the school district, just as we do daily on every campus."
Flowers added that Hau informed him the next day that Barrett was a union employee and no further investigation was necessary. Therefore, no incident report was filed.
"A quick search of our records shows that, so far in 2019, we have handled 2,587 suspicious-person incidents in the county," Flowers wrote. "Many of these are cleared without report once we determine that the person is not a threat or danger to the public."
Hartman said the CWA won't file a complaint against the Sheriff's Office.