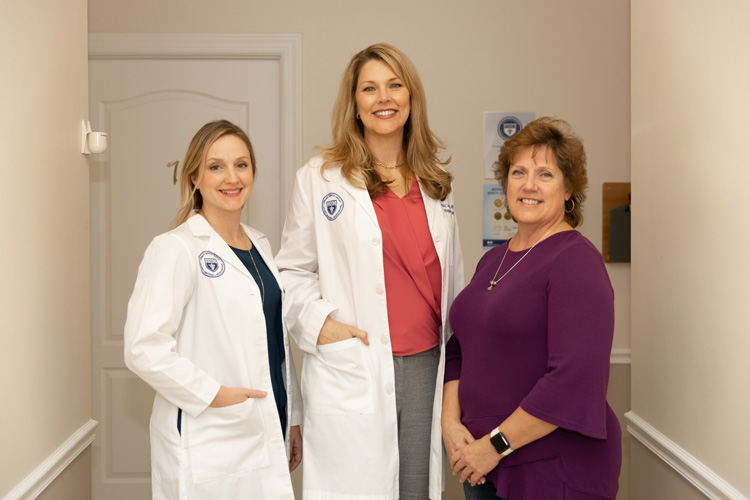 Benjamin Franklin's axiom that "an ounce of prevention is worth a pound of cure" is no less true today than when he first authored it.
Unfortunately, many seniors put their health, their mobility, their independence and even their lives at risk by not heeding Franklin's words when it comes to osteoporosis and balance issues.
Certified physician assistant Julie Klucar and advanced registered nurse practitioner Kristy Losapio at Steward Health's Coastal Fracture Prevention in Sebastian urge everyone over the age of 50 to consult their primary care physician, or to come to see them for bone density and balance tests.
The International Osteoporosis Foundation reports one in every three women and one in every four men over the age of 50 will suffer broken bones due to osteoporosis, and that an osteoporosis-related bone fracture occurs every three seconds.
According to the National Institute on Aging, balance problems in seniors are a major contributor to a high percentage of those broken bones.
It's this two-pronged problem – balance issues in seniors along with weakened and broken bones – that Klucar and Losapio deal with on a daily basis.
Bernadette Haugh, director of rehabilitation for the Sebastian River Medical Center, wholeheartedly agrees that seniors should be tested for balance and bone density.
Testing is critical because "osteoporosis [the age-related decrease in the density and quality of your bones] is a silent disease and you might not know you have it until you break a bone," according to the U.S. National Library of Medicine at the National Institutes of Health.
"A bone mineral density test," says NIH, "is the best way to check your bone health," and Losapio couldn't agree more – though she quickly adds balance problems to the equation by saying, "If you don't practice balance throughout your lifespan, you can lose it; if you don't use it, you lose it."
"Learning how to move properly when you have osteoporosis is just as important as all the other things that we do to treat osteoporosis," Klucar says.
Klucar and Losapio agree that combating the dual threat of bone weakness and balance issues doesn't necessarily mean adding to the list of medications you're already taking.
"It's not just 'here's another pill or here's a shot.' There's more to it. There's the balance aspect of it. There's the fall prevention aspect of it. There's the vitamins, the supplements, and only then, if necessary, the medication," according to Klucar.
They both agree that many people disguise their balance issues without even realizing they're doing it.
"A lot of people," says Losapio, "function great in their home because they're furniture-walkers. They know where the furniture is so they go and they hold on and they get themselves where they need to be. They don't even go outside their house because all of a sudden they're a little unstable out there and they don't know how to manage. As a therapist you want to look at what the root problem is" – which often is balance issues.
Changes in eyesight, changes in hearing and different medical conditions including low blood pressure can also play a significant role in falls and bone breaks, according to Klucar.
If balance problems and bone weakness are left untreated, a study in the Journal of Clinical Endocrinology & Metabolism says, "even simple bone breaks can increase the risk of death in seniors by up to 25 percent."
"I think, as a society, there's a certain stigma involved with growing older and the things that happen to our bodies and the changes that we go through, but people need to recognize that normal aging doesn't mean you stop doing all the things you love to do," Haugh says. "There are little things you can do. There's just little exercises, different things, different ways of looking at how you're moving that can make a huge difference in your life. If you never ask the question, you never get the solution."
Bone and balance assessments are not arduous, says Klucar, adding that "every patient who comes here for an osteoporosis evaluation gets a packet of handouts with balance exercises, fall prevention tips, strengthening exercises and weight bearing exercises."
The tests and informational packets are covered by Medicare and private insurance – often with no co-pay.
Letting untreated osteoporosis and balance problems curtail your freedom of movement – or even end your life – is just unacceptable.
Have the tests. Get the facts. Then enjoy your senior years to the fullest.
Bernadette Haugh is director of rehabilitation at Sebastian River Medical Center. Kristy Losapio and Julie Klucar are with Coastal Fracture Prevention, a Steward Healthcare facility at 13000 U.S. 1, Suite 5 in Sebastian. The phone number is 772-581-2663.