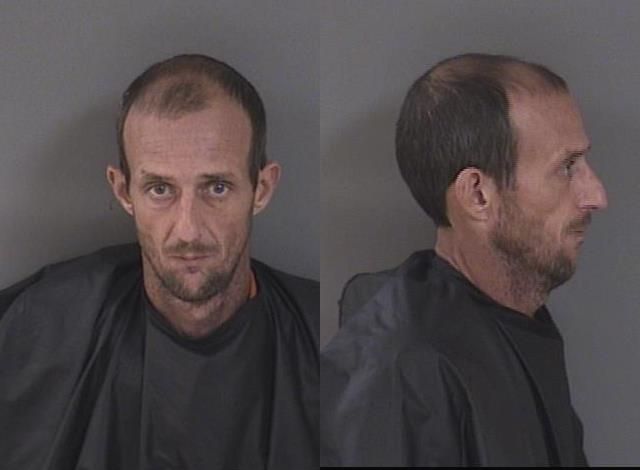 INDIAN RIVER COUNTY — A 38-year-old man who was shot after swinging a spiked bat at his former boss while wearing a mask, was jailed on Christmas Day, deputies said.
The man – identified as Matthew Thomas Shaler – was taken to Lawnwood Regional Medical Center & Heart Institute in Fort Pierce for treatment, reports show. Shaler told deputies he confronted his ex-boss as a prank, officials said.
The bat Shaler had was about three feet long with at least ten long metal nails, reports show. The nails were sticking out from different angles, creating spikes in the head of the bat, deputies said.
Deputies arrested Shaler, of the 5600 block of 38th Place, Vero Beach, on charges of aggravated assault with a deadly weapon and armed trespass on property. Shaler was released Dec. 26 from the Indian River County Jail on $35,000 bond.
Indian River County deputies spoke with the boss about 11 a.m. Dec. 18 in the 5700 block of 39th Street. The man said he was in his office earlier when he heard a loud bang at the door.
The man spotted Shaler, a former employee, standing outside with a black spiked bat, reports show. Shaler told the man he wanted to "squash it," officials said.
In the past, Shaler had broken a piece of equipment and had been trespassed from the property, reports. The trespass warning was issued in May, deputies said.
The man, in fear for his life, grabbed a shotgun and yelled for Shaler to leave. The man fired two shots toward the bottom of the door.
None of the bullets struck Shaler, reports show. Shaler began laughing and tried to open the door.
Deputies said the man opened the door partway and Shaler swung the bat at him. The man then fired two more shots, with the last one striking Shaler in the leg, reports show.
Shaler said, "ow that hurt," and began to crawl down the driveway, reports show. Shaler was taken to a trauma center.
Deputies arrested Shaler after his release from the hospital and took him to the county jail. Shaler has an arraignment at 8:45 a.m. Feb. 7, 2020, court records show.