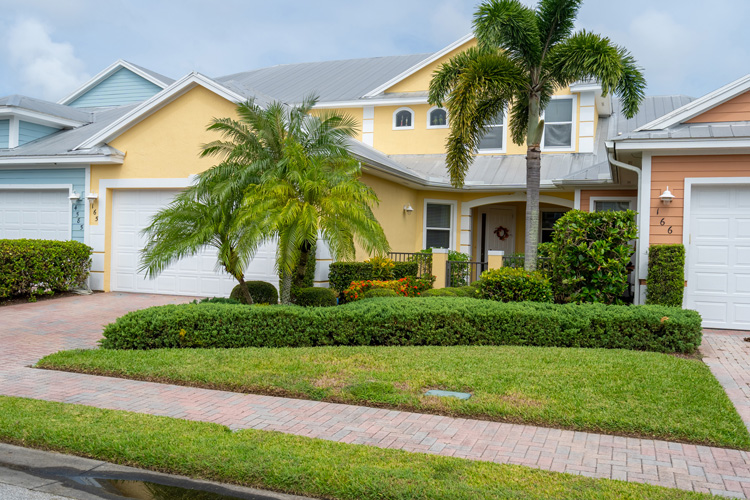 The two-story townhome in Bridgepointe was the perfect place for artist Donna Dodderidge and her husband, John. It provided lots of natural light and lovely lakefront views to inspire her painting, and there was extensive open wall space that became the home for much of her work.
The home's second floor extends only half-way over the ground floor, allowing those on the upper floor to look down over the great room below.
"I often paint on the upper lanai," Donna Dodderidge said, noting how she can easily roll her easel from the master suite-turned-art studio onto the screened balcony overlooking the lake.
The home's spaces are easily adjusted to suit the mood and needs of the occupants.
Off the entry foyer is a small, intimate room that might have been used for formal dining. Instead, the Dodderidges turned it into their library, lining the walls with bookcases and setting a small table in the middle that is perfect for a game of backgammon.
The great room is large enough to accommodate at least three different living room configurations, Dodderidge said, and still have room for the dining table.
And what would traditionally be a breakfast nook off the kitchen is now a bistro – a cozy place for a spot of coffee or tea.
"If you're someone who likes to change things up," Dodderidge said, this versatile house will be a good choice.
The kitchen features a number of upgrades, including dark granite counters and Shaker style cabinets. Though the kitchen is laid out galley-style, it is quite spacious, allowing for more than one cook at a time.
"I like not being shut out," Dodderidge said of being able to maintain conversations with those in the great room, dining room or bistro while she works in the kitchen.
"It flows really well for dinner parties," John Dodderidge agreed.
The ground floor master suite is situated off the kitchen and bistro.
The spacious suite is perfect for those with large pieces of furniture, or those who want to set up a sitting area near the window looking out on the lake. The en suite features dual walk-in closets, a Jacuzzi tub and a large glass shower. Separate sinks and counters provide enough space that no one needs to fight for storage.
The wood staircase to the second floor has multiple landings, ideal for art placement, which the Dodderidges have fully utilized.
The second-floor room that opens over the ground floor could be used as a den or home office, as it is now used by the Dodderidges. A guest bedroom has been converted into John Dodderidge's command center and is complete with a walk-in closet and an en-suite.
A few steps away is the second-floor master suite, which Donna Dodderidge converted into her art studio. With its own en-suite and direct access to the screened balcony, the couple can be together but separate at the same time.
"It's such a respite to be in this house," Dodderidge said.
While they have enjoyed these past few years in Bridgepointe, taking advantage of the community tennis courts, swimming pool and fitness center, they are ready to head back north – to Virginia – to be closer to family.
"We're missing our kids and grandkids," John Dodderidge said. "It's a tug."
He said they've enjoyed 12 years in Florida's tropical weather, including three here in Bridgepointe, but it's time to go back.
Vital Statistics
Address: 4585 Bridgepointe Way
Neighborhood: Bridgepointe
Construction: Townhome, concrete block and stucco
Year built: 2005
Size: 2,554 square feet under air
Bedrooms: 3 • Bathrooms: 3 full baths; 1 half-bath
Additional features: Two-story great room; flexible open floorplan; first- and second-floor master bedroom suites; large second-floor screened balcony; screened lanai with brick paver outer patio; lakeview; impact windows; community clubhouse with fitness center, tennis courts and swimming pool
Listing agency: Berkshire Hathaway Home Services
Listing agent: Gretchen Hanson, 772-713-6450
Listing price: $339,000