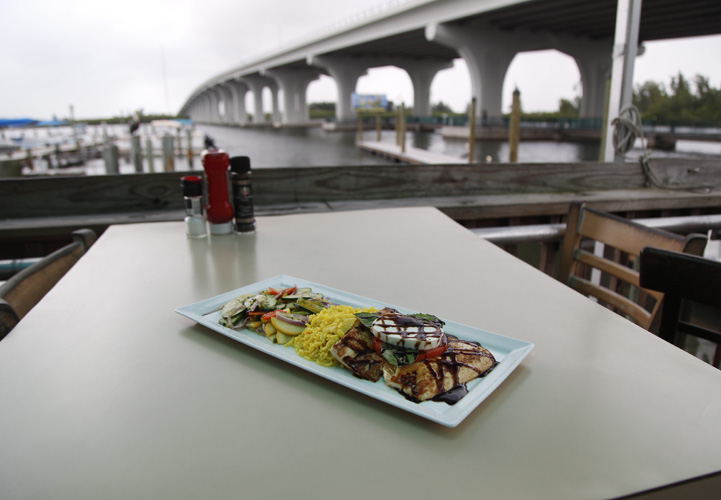 When someone mentions the Riverside Café, I generally think of it as the bar with all the big-screen TVs where my husband watches the pathetic Washington Redskins on fall Sundays. Or the late-night spot where if you're lucky, you might catch Vero's very own country star, Jake Owen, sitting in for a set when he's in town.
I don't tend to think of it as a place for gourmet dining.
But while it is by no means a white-table-cloth restaurant, the food is pretty darned good – a fact I was reminded of last week when my husband and I decided to grab an early dinner there before heading home to watch another interminable debate. (Actually, he snuck away half-way through to watch the Lakers-Bucks game, but that's another story.)
When we arrived at the Riverside Café shortly after 6, the hostess asked us if we wanted to dine inside or out. Since the main area with the bar was already pretty crowded and noisy, we decided to try a table out on the porch overlooking the Indian River lagoon. It turned out to be a near-perfect night for dining al fresco.
We decided to pass-up appetizers – the Riverside's bang-bang shrimp served with a tangy sweet chili sauce are very tasty – and start with a soup or salad, which is included with all meals. I opted for the house salad with a vinaigrette dressing and my husband chose the soup of the day, which was a New England clam chowder.
My salad was perfectly fine, and though my husband – a clam chowder purist – once again pointed out that Riverside's version would not measure up in Boston, suffice it to say that he keeps ordering it. Must be tasty.
Then for entrées, my husband chose the catch of the day – blackened grouper ($26.99) – and I ordered the seafood special ($22.99), which consisted of flounder stuffed with shrimp.
My husband's grouper was a very nice piece of fish, topped with citrus cream and served with rice and vegetables. But my seafood dish would have done any chef in town proud – beautiful fresh flounder filets wrapped around a shrimp, shallot, bread crumb and parmesan stuffing, and again topped with citrus cream. A successful dish.
For dessert, we shared a slice of a Key Lime pie ($6.99) with a graham cracker crust. Our server Dana showed us how to enhance it by poking holes in the pie with a fork, and squeezing a lime over it. An excellent upgrade.
Dinner for two here with beer or wine is likely to run around $80 before tax and tip. Appetizers will add a bit more to your tab.
The Riverside Café has a number of attractions beyond food. Beyond the TVs with the football, there are DJs, bands, contests, and overall, the ambiance is a bit frenetic. The bar area is not a place you would seek out for a quiet dinner; but if it is too cool for the porch, there is a front room that is a bit quieter.
This is one of the top casual places to dine on the beach. And for those wanting to squeeze in a tasty dinner before catching this season's shows at the Riverside Theatre, this is a very good option.
I welcome your comments, and encourage you to send feedback to me at tina@verobeach32963.com.
The reviewer is a beachside resident who dines anonymously at restaurants at the expense of Vero Beach 32963.
Riverside Cafe
Hours: Daily, 11 a.m. to 1 a.m.
Beverages: Full Bar
Address: 1 Beachland Blvd. (On the river at the foot of the Barber Bridge)
Phone: 772-234-5550
Photos by: Kaila Jones and Staff
Click HERE to see more or buy photos