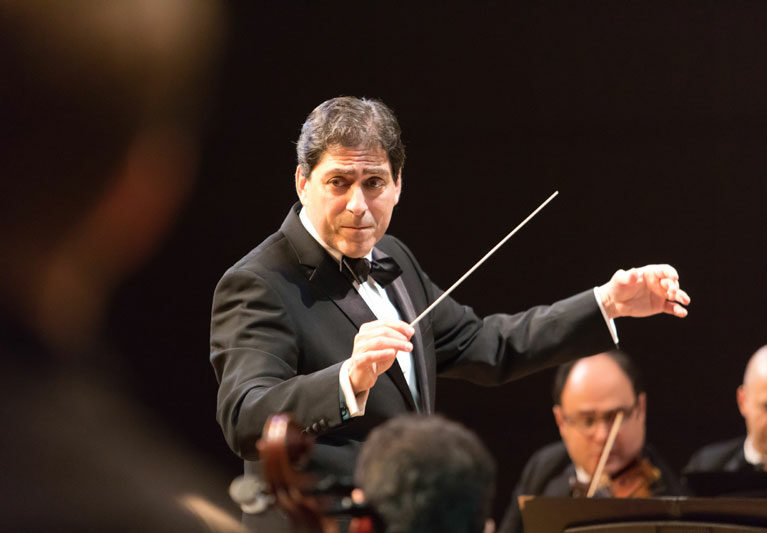 Celebration marks the upcoming season of the Atlantic Classical Orchestra. ACO conductor and music director David Amado has created a program filled with glee to celebrate two milestones – the 30th anniversary of the ACO and the 250th birthday of Ludwig van Beethoven.
Beginning Jan. 7, the season comprises a great range of compositions; from classical icons and inventive new works to pieces combining dance and rarely featured instruments. Each Masterworks concert includes one piece by Beethoven.
"It's a unique and great year," says Amado. "I felt like I wouldn't be doing anyone any favors by doing all Beethoven all the time. We love Beethoven, but it's important to contextualize the programs to keep them interesting."
Indeed, the Masterworks series includes works of the classical, romantic and modern eras. Because of the size of the orchestra, all of it comes across as it sounded in the composers' head, Amado explains. It's not too big, nor too small. It's just right.
"This music is a good fit for our orchestra," Amado says. "The ACO is not an orchestra that has enough people to play a Mahler symphony. We don't have 95 people; we've got 45 to 50 people. It's an orchestra that Beethoven, Haydn, Mendelssohn and Schumann would recognize."
Past concerts have been so successful that word about the ACO continues to grow, says executive director Cindy Roden.
"Since David jumped on board (in 2016), we've had such great feedback," she says. "We have the traditional concert goer, but we are finding that we are getting a lot of new, younger faces. We're seeing the next generation of concert-goers."
Amado, who also serves as music director of the Delaware Symphony Orchestra, works for months when selecting a season. He comes up with a proposal and brings it to a committee, also checking with Roden to see if there could be conflicts.
"I stay attentive to the instrumentation, not picking a Mahler," he says. "I try to go a step further and be sensitive to the musicians' time. I don't want to play a five-minute overture which will use a musician who is not used for the rest of the concert. And I have to balance the soloists' availability.
"If a soloist wants to play something else, then it's back to the drawing board. It's a lumpy and inelegant process, but it happens."
The orchestra is made up of statewide professional musicians who receive the music and initially practice and learn their parts on their own. They then have four group rehearsals prior to the concerts.
The 2020 season begins, fittingly, with Beethoven's "Symphony No. 1" along with Rachmaninoff's "Rhapsody on a Theme of Paganini" and Dvorak's "Slavonic Dances."
"It has the simplest overarching connection, bite-sized pieces," Amado says. "With the Rachmaninoff set of variations, you have a tune that gets varied. That's very much the same with Dvorak, a series of events happening one after each other. I like putting them with the first symphony of Beethoven, which is early. He hasn't really turned into the Beethoven we all imagine. He was still in the classical period. So the formal transgressions he engages in are subtle."
All the featured soloists this season are women. Roden says that it was not a deliberate choice, but instead was about getting the best musician for the concert. They just all happen to be women.
And, one of the composers is a woman — Pulitzer Prize- and Grammy Award-winner Jennifer Higdon, whose celebrated work "Dance Card" will be performed in the Masterworks II program.
"It's a wonderful piece; a very energized piece that celebrates the nature of playing music with one another," says Amado. "A big point is a reliance on the baroque form and content dressed up in 20th century garb. It gives the piece a very particular quality, with gorgeous tunes and a great sense of humor."
Amado can talk about each concert with ease and excitement. In fact, he's so enthused that the board has asked that in addition to his pre-concert chats, he step forward before each individual piece to speak a bit on each one.
He admits that he hopes it will go well and that he doesn't speak too long.
Still, ask him a question such as, "Tell me about the Piazzolla work," and he'll ask you to tell him when you've heard enough. Piazzolla's "Aconcagua, Concerto for Bandoneon" will be performed in Masterworks III.
"It has a bandoneon, an accordion-like instrument," says Amado. "His piece bridges the gap between tango music and the concert hall of his native Argentina. You hear the influence of tango. You also hear his virtuosity as a composer of concert hall music. It's fun to listen to.
"All over Europe, the accordion gets a lot more respect and love than on this side of the Atlantic, which is sad, because it is an incredibly expressive instrument and complete, like the piano."
In addition to the Masterwork Series, the ACO has a three-concert Chamber Music Series which performs at the Vero Beach Museum of Art.
The 2020 Masterworks Series:
All concerts begin 7:30 p.m. at the Community Church of Vero Beach, 1901 23rd St., Vero Beach. Single tickets begin at $30, subscriptions begin at $90. A pre-concert talk begins 6:45 p.m. (Masterwork concerts are also held at the Eissey Campus Theatre at Palm Beach State College and at the Lyric Theatre of Downtown Stuart).
Jan. 7: Masterworks I 'Variations,' with Beethoven's "Symphony No. 1," Rachmaninoff's "Rhapsody on a Theme of Paganini" featuring Gabriela Martinez, and Dvorak's "Slavonic Dances."
Feb. 18: Masterworks II 'Old, New, Borrowed & Blue,' with Higdon's "Dance Card," Stravinsky's "Pulcinella Suite" and Beethoven's "Violin Concerto" featuring Elena Urioste.
March 3: Masterworks III 'Rivers & Mountains,' with Beethoven's "Lenore Overture No. 3," Piazzolla's "Aconcagua Concerto for Bandoneon" featuring Lydia Kaminska, and Schumann's "Symphony No. 3 (Renish)."
April 7: Masterworks IV 'Strings Attached,' with Wagner's "Siegfried Idyll," João Luiz's "Concerto for Harp" featuring Bridget Kibbey, and Beethoven's "Symphony No. 7."
The 2020 Chamber Series:
All concerts begin 3 p.m. at the Vero Beach Museum of Art, 3001 Riverside Dr., Vero Beach. Single tickets begin at $35 and series tickets begin at $75; however, this season's series is completely sold out. (Concerts are also held at the Blake Public Library in Stuart.)
Jan. 25: Concert I, 'Impressions and Expressions,' with works by Takemitsu, Piazzolla, Porter and Debussy.
Feb. 23: Concert II, 'American Modernism,' with works by Ives, Barber and Copeland.
April 5: Concert III, 'Bach to Ballet,' with works by Ravel, Dohnanyi and Bach, and featuring dancers from Ballet Vero Beach.
For tickets or for more information, call 772-460-0851 or visit AtlanticClassicalOrchestra.com.