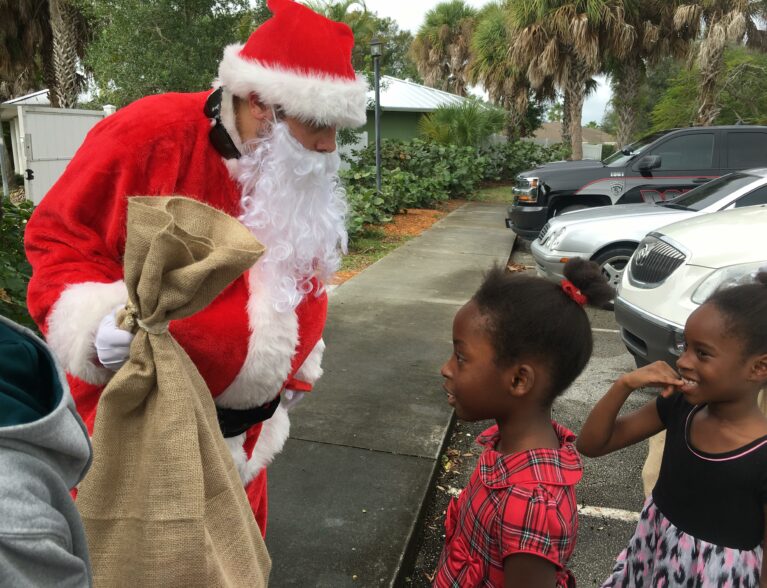 Saint Nicholas and his elves have been busy across Indian River County for the past few days.
On Christmas Day, Santa Claus and his helpers arrived at Hibiscus Children's Village shelter in their decked out 'sleigh'. The sleigh – an Indian River Shores Public Safety Department fire truck – had dozens of presents inside, an inflatable snowman on the top and a Christmas wreath on the grill.
"We are helping those who fell through the cracks to let them know they are not helpless," said community activist Michael Marsh, the man inside the traditional red and white Santa outfit with a white beard. "This is more than giving out gifts. When we have great community partners, it's not just a one-day success but a continuous success."
Several children stood outside and watched in awe as Santa and his helpers brought in colorful gifts to the children's center. Santa hopped back on his sleigh and delivered more presents to six families in need throughout the county.
The gifts included teddy bears, bicycles, cases of bottled water, toy cars, tea cup party sets, a Barbie blender, family party games and turkeys for Christmas dinner. For 23-year-old mother Kari Hunter, of Vero Beach, the generous act left her feeling grateful.
Her son, 1-year-old Jayce, was a little shy as Santa gave him a Christmas present.
"I didn't think I was going to make it happen for him," said Hunter, of Vero Beach, who works as a waitress at Mulligans in Sebastian. "I know he will enjoy it. I want to thank everyone."
Santa and his helpers deliver toys and bottled water to Hibiscus Children's Village and families in need on Christmas Day. The event was spearheaded by the nonprofit Team Success Enterprises. #VeroNews pic.twitter.com/4TuVo0JP4l

— Nicholas Samuel (@JournalistNickS) December 25, 2019
Team Success Enterprises, a local nonprofit, spearheaded the Second-Annual 'Caring Christmas Cause' event. The organization, with help from Indian River Shores Public Safety Department, Phoenix Rising Wellness Center and Vero's Paradise Landscaping LLC, also handed out gifts Sunday at Samaritan Center, a homeless shelter in Indian River County.
"It's important for police departments to engage with the public in positive ways rather than having the only interaction be when we issue traffic violations or make arrests," Shores Director of Public Safety Rich Rosell said. Lt. Albert Iovino said part of public safety is being involved in the community 100 percent and taking care of residents in a collaborative effort.
Marsh said youth at the Samartian Center and children in underprivileged families completed 'wish lists' for their desired gifts. By raising money from community donors and grants, Team Success was able to purchase all the items, worth up to $4,000 total, Marsh said.
The nonprofit also presented gifts to children and families in need on Christmas Day in Port St. Lucie and Fort Pierce.
"We leave our families to help out others on holidays," Marsh said.
Photos by Nick Samuel