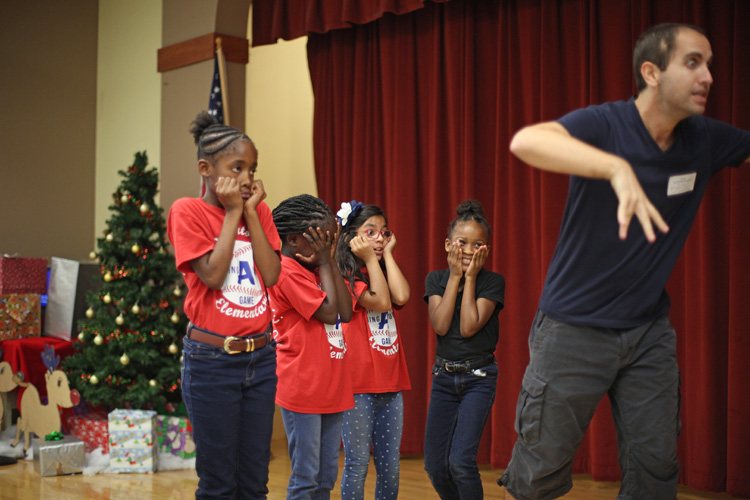 When "The Nutcracker" first debuted in Saint Petersburg in 1892, audiences were not entirely pleased that children were so prominently featured. Fortunately, the concept of young dancers has continued, leading many a budding ballet dancer to have visions of playing Sugar Plum Fairies or Nutcracker Princes in their heads.
Locally, Ballet Vero Beach has fully embraced the use of young dancers in its "Nutcracker on the Indian River," a unique production that sets the stage on Christmas Eve 1919, Vero Beach's Centennial year, utilizing costumes and scenery that highlight our Indian River Lagoon. Full-length performances take place at the Vero Beach High School Performing Arts Center Dec. 30-31, with a new one-hour "Nutcracker for All" production (more about that below) on Dec. 29.
This third annual production will feature 40 student dancers sharing the stage with professional dancers from BVB sister companies; seven from American Midwest Ballet and 15 from Dimensions Dance Theatre of Miami.
Adam Schnell, BVB founding artistic director/CEO, and Camilo A. Rodriguez, ballet master, are instructing auditioned students from their Riverside Theatre Dance Programs and community Outreach nonprofit partners, as well as eight teacher-selected students each from Fellsmere and Dodgertown Elementary Schools through an outreach partnership with the IRC School District.
Schnell says when selecting dancers for the 12-week-long process, they advise the teachers, "You don't have to look for dancers, you don't have to look for the most focused children, the most well-behaved, that get straight A's. We want you to identify kids that will benefit from the process."
"The Nutcracker, for Adam, is really about the story itself, not just the choreography. So Adam will emphasize what each movement means, and why it's eight of us and not six," Rodriguez explains.
"Fellsmere students are playing toy soldiers this year. In the beginning of the ballet, the heroine's older brother gets a gift from his parents and it's a box of eight toy soldiers. So we try to make these little connections," says Schnell. Dodgertown students will be playing pelicans and sea turtles.
He says they try to distill the dance so that students get more out of it than just learning the steps.
"We'll talk about, when you're a soldier and you're marching, what does that feel like? And they have to come up with the adjectives. So it's less dance steps and more about giving them mental references, social references," says Schnell.
"The goal is never to try and fit the kids in any of our productions into a specific mold. Yes, they have costumes and yes, they're going to have to learn the steps, but we want them to get to the level that is best for them," Schnell explains.
"The other side of that coin is that we're going to play as a team," adds Rodriguez. "You have to be responsible for yourself and for the collective. Those skills are actually quite difficult. There's larger skills and problem solving that we're working with."
Although they have no hard data on whether the experience has filtered into the school classrooms, Schnell says that teachers have noticed an improved sense of accomplishment in the students that immediately translated into the classroom.
While the teaching approach and expectations for prior dancers and newbies is different, they try to impart a little of the same to each, because eventually all have to come together as part of the production.
"This year, we actually have one or two places where we have dancers and non-dancers together," says Rodriguez.
"We have a young man who came to us this year from Dasie Hope, who hopefully will be getting in to dance classes very soon," says Schnell. "But because he's so natural and so energetic, he got cast into some roles where he's standing beside kids who have been taking dance with us for five or eight years."
Regardless of where the students, who range in age from 7 to 18, come from, all are taught to be good citizens of the world.
"We expect the kids that see us for dance classes to participate in these things, to be leaders and mentors to the kids just coming into this," says Schnell. "We've been really lucky; they take on that role really, really well."
Eventually, these young dancers from a variety of backgrounds must be ready to cohesively share the stage with the professional company.
They say Gina Marie Saxton, who is playing Marie for the third year, and Serenity Marsh, who will again play Fritz, are the epitome of working alongside children who have never danced before.
"They are definitely of that quality that we look for in some of the bigger roles. They're thoughtful and they will take something you say to them and make it even better. Whether it's a character or a step, they have the ability to go beyond," says Schnell. "That's what we really strive for with all the kids. To make it their own, and give them the confidence to hear what we are saying and to trust us enough to just let it out. We make them responsible. Even the youngest ones from Dodgertown; they're responsible for themselves."
"We're very clear about what the expectations are and what we think they're going to be able to fulfill," says Rodriguez.
New this year is a one-hour long "Nutcracker for All" initiative funded through a grant from Quail Valley Charities. "It's the next step for us in terms of our work to include all members of the community in our programming," says Schnell.
There is a nationwide trend in professional dance, theater productions and symphonic concerts to have autism-friendly performances; including such changes as modified sound and lighting, no strobe effects and break areas.
"So there was a big trend in that elsewhere, but not here. We are on the forefront here," says Schnell. "None of the other arts organizations are doing this for the specifically differently-abled members of our community."
Having met with the school district, they learned that one in five students do not necessarily follow a standard classroom day.
"That's 20 percent of the district that is either on a behavior or an individual plan to excel them forward with their academic studies," says Schnell. "So I thought, I don't want this to just be autism-friendly. I want this to be friendly for all the members of the community that can't sit through a performance here; cannot engage with our programming because of something."
Among other modifications, there will be a section where people will be allowed to move about during the show and another reserved for people who prefer to sit quietly.
The production is open to individuals of all ages who identify as differently-abled and, thanks to Quail's grant, all seats are $10; or free for those with a financial need.
"There's really a trend nationally for arts organizations to think about what they are doing with the art form that goes beyond that perfect show," says Schnell. "We are really trying to capitalize on that trend here with our organization, because honestly, that fits in with why we started this. The tagline is 'Dance is a universal language.' If you're not reaching out to everyone and really getting that universal language to them, then we are not doing our job."
The full-length "Nutcracker on the Indian River" performs Dec.30 at 8 p.m. and Dec. 31 at 2 p.m. Tickets are $10 to $75. "Nutcracker for All" debuts for one performance Dec. 29 at 2 p.m. Tickets are $10. For more information visit balletverobeach.org or call the VBHS box office at 772-564-5537.