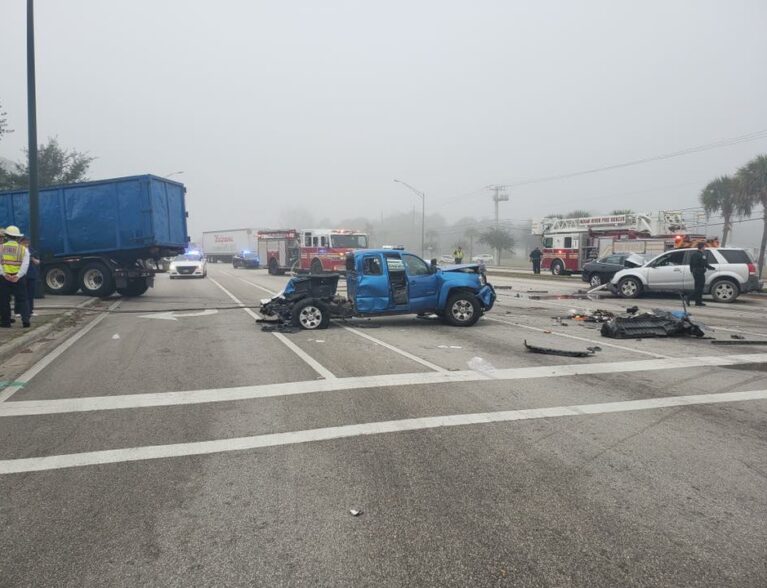 INDIAN RIVER COUNTY — A 76-year-old man remained in critical condition Monday after a multi-vehicle crash Dec. 11 that closed eastbound State Road 60 for several hours, officials said.
Monday, Douglas Zapf was still hospitalized at Lawnwood Regional Medical Center & Heart Institute in Fort Pierce, the hospital's Public Relations Director Tiffany Woods said. It was unclear which vehicle Zapf was in during the wreck.
Florida Highway Patrol troopers are still investigating the crash.
Authorities said the incident occurred when a dump truck lost control and slammed into several small cars. The multi-vehicle collision happened about 8:30 a.m. Dec. 11 at 82nd Avenue and S. R. 60, Indian River County Fire Rescue Battalion Chief Kyle Kofke said.
Seven vehicles were involved in the crash, which occurred in the west corridor, not far from Interstate 95, officials said. FHP spokesman Lt. Yanko Reyes said "it appears the driver of the dump truck lost control and hit six other vehicles."
Traffic was diverted at 90th Avenue, Indian River County deputies said. The eastbound lanes on S. R. 60 reopened by 1 p.m., Reyes said.
Motorists experienced heavy fog the morning of the crash, leading weather officials to issue a dense fog advisory at 9 a.m. The thick fog stretched over Indian River, Martin, St. Lucie, Brevard, Osceola and Okeechobee counties, according to National Weather Service in Melbourne.
It was unclear if the fog contributed to the collision.