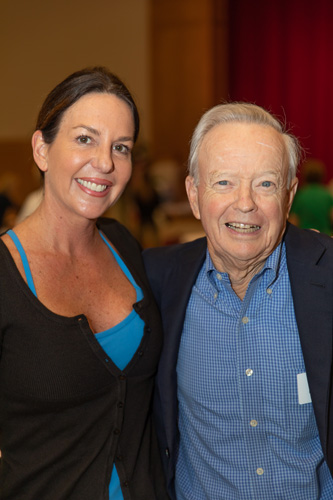 Supporters of the Alzheimer and Parkinson Association of Indian River County didn't let this year's weather-related cancellation of the 16th annual Walk to Remember get them down. Reports of lightning put a damper on the walk that had been scheduled for early November, but clearly not the spirit of the participants.
Instead, they put one foot in front of the other and gathered recently at the First Presbyterian Church to celebrate that they were just shy of reaching their lofty $156,000 fundraising goal.
Crews showed up sporting their team shirts and, after enjoying an afternoon snack, laid claim to raffle prizes before Cunningham announced this year's top fundraising teams. In the Corporate category, Get Doped Up took first place, and in the Family category it was Bubba's Buddies.
"Instead of thanking you for participating in the 16th annual Walk to Remember, I'm here to welcome you to the first annual walk that wasn't," said executive director Peggy Cunningham. "This is the only event that supports all of the local families who are managing that journey with Alzheimer's, dementia and Parkinson's, or movement disorders. You have been amazing partners."
She added that "a few weeks ago, we actually blew past what we raised last year. Here's the most amazing part: For an event that wasn't, we are only $6,200 from our goal. We will continue to accept funds until Dec. 31 when we put this event to bed."
Highlighting the importance of each and every participant's part in raising funds and awareness, Cunningham shared that 1.5 million Americans have Parkinson's and 5.8 million suffer from Alzheimer's. Those numbers are expected to double by 2030.
"That's 16 million caregivers, unpaid, saving us all an enormous amount of money nationally," added Cunningham.
She said that is why the work of the local nonprofit to empower, educate and support families dealing with memory and motion diseases is critical. Every dollar raised stays in Indian River County to assist local residents.
To meet the ever-growing demand for its services, the organization has expanded programming outside of its Vero Beach location, and into Gifford, Sebastian and Indian River Shores, with plans to expand to other areas of the county as well.
For more information, visit alzpark.org.
Photos by: Denise Ritchie
Click HERE to see more or buy photos