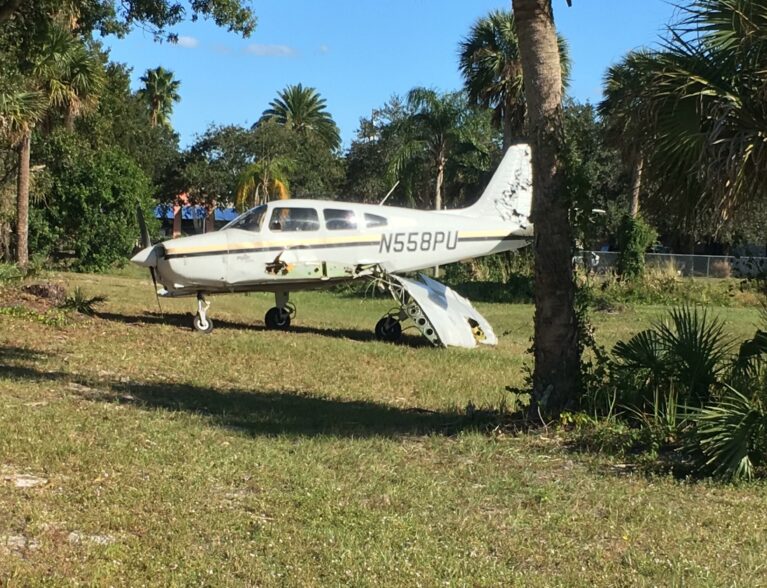 INDIAN RIVER COUNTY — No injuries were reported after a 21-year-old pilot struck a palm tree before crashing into an open field Monday following an engine failure, officials said.
"He's okay. He didn't have a scratch on him," Indian River County Fire Rescue Battalion Chief Jamie Coleman said. "It was his first solo flight."
The FlightSafety Academy student pilot – identified as Zhuang Qu, of Vero Beach – was flying the small single-engine Piper Cherokee PA-28 plane about 12:40 p.m. Monday, officials said. Qu took off from Vero Beach Regional Airport earlier and landed at the airport in Labelle, located southwest of Okeechobee, Vero Beach police spokesman Master Officer Darrell Rivers said.
The pilot began making his way back to the local airport and tried to land on the runway when the engine lost power, Coleman said. The plane's left wing struck a palm tree before the aircraft landed in an open field in the 4100 block of Aviation Boulevard, just a few feet away from a canal and the road.
The field, located southwest of the airport, was previously a golf course for Dodgertown, Coleman said. The crash left the wing nearly detached from the aircraft.
"(Qu) was shaken up," Rivers said. "The palm tree saved his life. He's lucky the plane didn't spark (and catch fire)."
.@VeroBeachPD spokesman Master Officer Darrell Rivers talks about plane crash near Vero airport that left man unharmed. #VeroNews pic.twitter.com/ehL0lmY0Kx

— Nicholas Samuel (@JournalistNickS) December 2, 2019
Qu was not harmed and FlightSafety International mechanics were expected to remove the plane from the field, Coleman said. The plane is registered with FlightSafety International, according to the Federal Aviation Administration website.
There were no other occupants aboard the aircraft. The flight academy is located on the Vero Beach Regional Airport property.
"We are focused on the safety of our flight operations and are concerned with any incidents or accidents that may occur," said Steve Phillips, FlightSafety International Vice-President of Communications. "We're pleased the student was not injured. We are cooperating with aviation regulatory authorities as they conduct their investigation."
The FAA will investigate the cause of the wreck. Details on what caused the power failure were not immediately available.
This was not the first plane crash to occur in the county this year. In March, 24-year-old Yujia Qu died after a small Piper Warrior 3 plane she was piloting crashed into a wooded area in Vero Lake Estates.
In February, another small plane crashed in a grassy area behind the Indian River County Jail. The pilot in that incident – who was not identified – was not hurt.