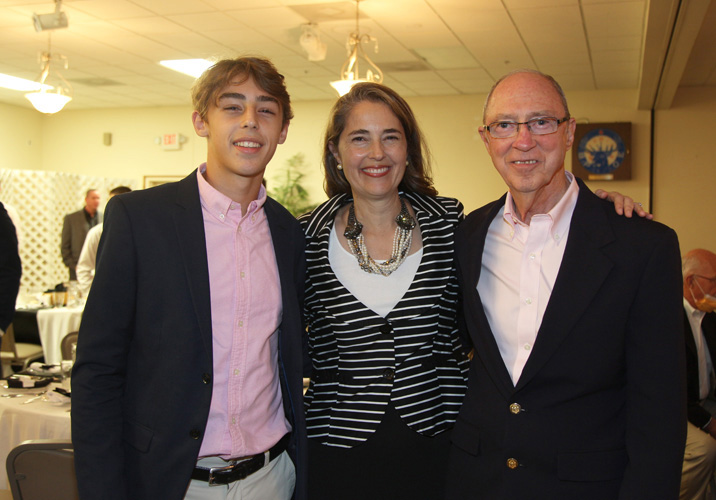 Martial Arts Grandmaster Soke Haisan Kaleak recently flew in from New York to award the rank of 10th Degree Black Belt in Sanuces Ryu Jiu-Jitsu and the title of Grand Master to William Willis, founder and owner of the Vero Beach Karate Association and the U.S. Karate and Jiu-Jitsu Association Scholarship Fund. The lifetime achievement award was presented at the annual VBKA Scholarship Banquet, held at the Elks Club of Vero Beach.
For nearly half a century, Willis has impacted thousands of students at Vero Beach Karate through the pursuit of excellence in martial arts and human development. He annually trains upwards of 300 students, from tiny tots to seniors, and has graduated 400 black belts in multiple styles of martial arts, a commitment that can take between four and 10 years to accomplish.
"What's beautiful about Mr. Willis is his humility," said Jason Wesley, who trained with Willis for 23 years and also taught at the school. "Karate is all about respect, and even though he's earned the title of Master several times over, all he ever wants to be called is Mr. Willis. His legacy of servitude and respect is an inspiration to all."
A fitness enthusiast his entire life, Willis relocated to Fort Lauderdale from New York in the early 1950s and, after graduating from the University of Florida, moved to Vero Beach and opened an insurance agency. Willis began his martial arts training in Yoshukai karate, earned his first-degree black belt and soon assumed the role of instructor.
Willis, who has earned advanced black belts in nearly a dozen styles of martial arts, uses a unique approach to develop character in his student's lives. The core ideology of the VBKA consists of self-defense, fitness and personal development, and is integrated into a program that encompasses training in karate, jiu-jitsu, judo and weapons.
"We not only want our students to be proficient martial artists," said Willis. "We also want them to be polite ladies and gentlemen with good character. While they are perfecting their martial arts skills, they are also developing and perfecting all areas of their lives."
To help broaden their perspectives, he established semi-annual fun runs and 15-mile bike rides, as well as educational workshops. Students at his summer camps have even been introduced to the arts, ballroom dancing and dating etiquette.
Students are recognized for their schoolwork and extracurricular activities through Student Excellence Awards, and are encouraged to give martial arts demonstrations at schools, retirement homes, clubs and fund-raising events.
Under his guidance, the Vero Beach Karate Association has supported many local charities; donating $250,000 to the Muscular Dystrophy Association and $50,000 to the American Cancer Society, and the USKJA Scholarship Fund has provided more than $300,000 in college scholarships, including seven at this year's banquet.
For more information, visit www.vbka.com.
Photos by: Kaila Jones
Click HERE to see more or buy photos