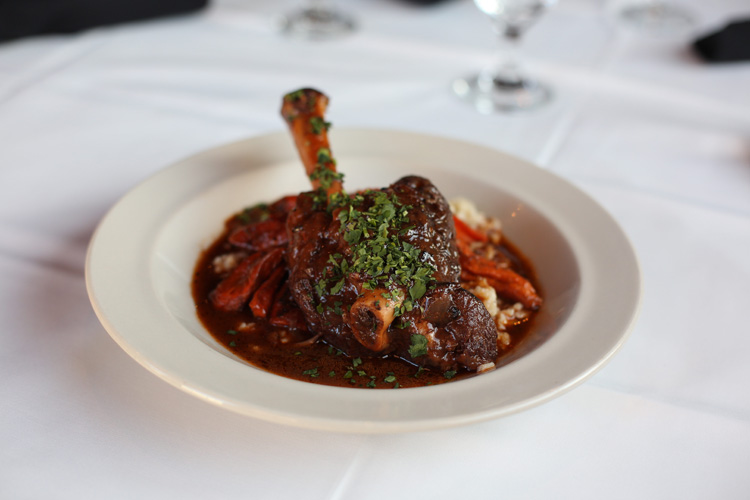 Two successful Fort Pierce restaurateurs – Chef Jason and wife/sommelier Hallie Alfonso – have just opened a new dining establishment, Savor, in Vero. And based on a couple of early visits, our guess is their decision to move 15 miles north could turn out to be a big winner.
Headline news: In Fort Pierce, the Alfonsos had an attractive restaurant called 121 Tapas on the Water. Now, in the space that formerly housed Vero Prime, they are offering a number of the dishes that were a big hit on their tapas menu together with new entrées that demonstrate Jason's skills as a chef.
Look & Feel: At the moment, diners will find the interior of Savor little changed from its steak-house days. Only some pictures on the wall seem to have been added since the new ownership took over. But that seems likely to give way to a classy new appearance soon.
Food: On two visits, one of them accompanied by a guest, my husband and I sampled an assortment of salads, appetizers and entrées.
The Savor salad ($9), a chopped mix of romaine lettuce, tomatoes, Granny Smith apples, Craisins, red onion, candied pistachios and house blue cheese, was tasty, as was the roasted red and gold beets and goat cheese salad ($12).
I also tried two appetizers. The first, rock shrimp and gnocchi ($13), consisted of morsels of shelled rock shrimp and gnocchi surrounded by a sweet pea puree and a chive and lemon beurre blanc. Perked up by a couple additional squeezes of lemon, this was an excellent dish.
I then had the U-10 scallops and parsnips ($18), three beautifully caramelized sea scallops set amid carrots roasted in duck fat, all surrounded by a parsnip puree and finished with an orange beurre blanc. While this was listed as an appetizer, it was ample as a main course – and a delicious one at that.
We also sampled four entrées: the Berkshire port chop ($24), the cioppino seafood stew ($32), the filet mignon ($28) and the roasted lamb shank ($26).
The filet, served with charred Brussels sprouts and a very tasty truffle mac and cheese, drew high marks. But the best of the meat dishes turned out to be the pork chop – a large luscious chop topped with a sweet-and-tangy honey chipotle glaze and accompanied by roasted fingerling potatoes and asparagus.
I also was very impressed by the cioppino seafood stew ($32), a beautiful dish of shrimp, scallops and mussels served in a light, lemony garlic wine tomato sauce, and accompanied by a very nice risotto. I've had a lot of cioppinos, and this was one of the better renditions.
Drink: Just as its predecessor at this location, Savor has an extensive wine list and also serves cocktails.
Service: For a new restaurant, service was knowledgeable and attentive.
Prices: Prices for appetizers range from $7 (for the five-cheese mac and truffle) to $25 (for the king crab and butter). Entrée prices start at $14 for the burger and truffle fries and are mostly in the low-to-mid $20s.
Initial impressions: Chef Jason is both talented and committed to making Savor a success (he says with five boys under the age of 12, he has to). We're betting on him to turn this new restaurant into a big Vero hit.
I welcome your comments, and encourage you to send feedback to me at tina@verobeach32963.com.
The reviewer is a beachside resident who dines anonymously at restaurants at the expense of Vero Beach 32963.
Savor
Hours: Everyday from 4 p.m. to 10 p.m.
Beverages: Full Bar
Address: 901 21st Street, Vero Beach
Phone: 772-925-1187
Photos by: Kaila Jones
Click HERE to see more or buy photos