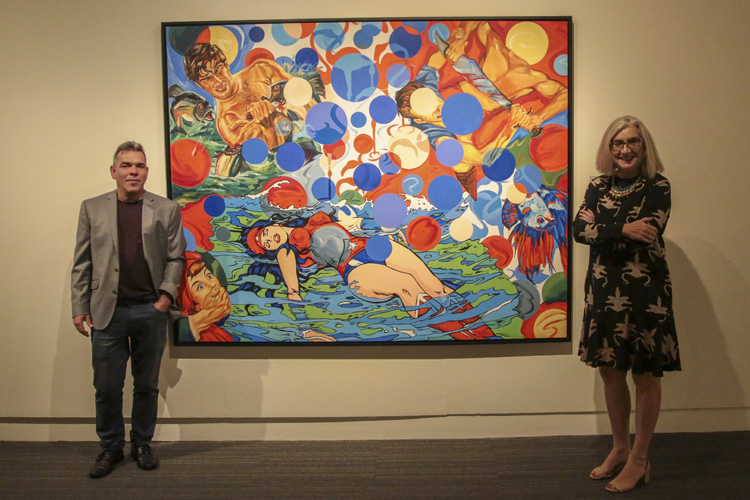 Vivid color and artful excellence may take your breath away in the Foosaner Art Museum's current exhibition, "Crosscurrents: Contemporary Selections from the Rodríguez Collection of Cuban Artists." But linger just a bit and you'll discover provocative works that compel you to think.
Indeed, this is exciting stuff. "Crosscurrents," which is on view through March 14, 2020, in the Melbourne venue, comprises 56 works by 19 artists, all of whom were born in Cuba, studied in Havana and immigrated to the United States in the 1990s.
Overall, the show is an honest one, filled with self-expression and consideration. Many of the pieces have political points of view, which may be uncomfortable for some viewers but righteous for others.
Carla Funk, Florida Tech's executive director and chief curator of university museums, went to Miami to choose the pieces specifically for this exhibition. She worked with Henry Ballate, the collection's curator and one of the artists in the exhibition.
The works she picked, she said, tell a "really powerful story."
"I love Cuban art," Funk said. "I've visited Havana twice. It's an amazing place. The art is so vibrant and so political. It's unique, really, because they are coming out of a unique social situation.
"The art is really powerful. It's a very important part of the story of Florida. We need to tell their story, the story of Cuban-Americans who are now here."
The Rodriguez collection, which Funk calls "young but really important," is a large one. To filter through all the works for the "Crosscurrents" exhibition, Funk decided to highlight artists who became popular in the 1980s.
"That was a real boon for Cuban art," she said. "After that, Cuban art became internationally well known."
Most of the exhibit's artists were born during the first decade after the 1959 revolution. Despite the increasingly oppressive atmosphere in Cuba, the art there flourished.
Much like 1930s German expressionistic art which the Nazis labeled as "Degenerate Art" and eventually censored, all of the work by these young Cuban artists faced censorship. It undermined the communist party line of what art should be, Funk said.
A perfect example of that are the disquieting collages by Aldo Menendez. His pieces turn objects into people and people into objects. He gained in notoriety after founding a silk screening workshop that still exists in Havana. He also created graphic imagery for magazines in Havana.
"He superimposes different negatives to create a reality that is fantastic," Funk said. "He's a conceptual photographer and basically showing a variety of reality and absurdity of our existence."
Adriano Buergo's "Rostro Roto" (Broken Face), an acrylic on canvas, proposes the story of present-day Cuba.
The image is of a broken fan which suggests the image of a face. It shows bandages holding together what could represent a cranium. While at the bottom, a cottony smile of sorts is taped onto the lower half of the "face."
"To me, it's a funny face that's very much about Cuba," Funk said. "Everything is broken there. He based his series on an old fan he had that was broken."
Explaining, Funk said Cubans today can't buy new things, so they keep old things that don't work anymore in hopes they can one day fix them.
"Like the tradition of old cars from the '50s; they'll add disparate parts to keep them running," she said. "The broken fan is a metaphor for how the society is broken in Cuba … the lack of basic things you need to get through the day."
An especially provocative piece is the red, white and blue graphic work "I'm With Her," by Ballate. In it, two females are in a sensual embrace. The piece is clean in its graphic appeal, but step up close to it and you see it is not on white canvas, but instead painted on newspapers taken from the day after the American 2016 presidential election.
"He's taking his Cuban sensibility and applying it to American politics," Funk said. "He's commenting on the American (political) revolution but doing it in a slick, graphic propaganda style. He's commenting on gay rights, divisiveness. It's a very political piece."
Installed in the Foosaner's smallest gallery, Ballate's piece hangs near his quartet of other works, collectively entitled "Avoir la apparente dans le Soleil," which translates as "To Have the Apprentice in the Sun."
The four pieces are like an etude on what Ballate sees as a conversation with conceptual artist legend Marcel Duchamp, whose "Nude Descending a Staircase" won acclaim at the 1913 New York Armory Show. Duchamp also famously exhibited a signed urinal, which he called "Fountain," at the 1917 Society of Independent Artists in New York.
In Ballate's four-piece graphic work, Duchamp's silhouetted profile looms large in dialogue, perhaps other worldly, with Ballate's own silhouette, seen as a tiny man in the corner.
One work in particular that demands the viewer to sit and study is Ciro Quintana's "Shipwreck in Wonderland."
In it, Wonder Woman takes on the shape of Cuba, and floats, unconsciously, in a threatening sea. You see a strong man slaying ravenous fish, their sharp teeth bared and ready to rip into the flesh of the woman. In another corner, the hand of an "offstage" man covers the mouth of a young woman, with one blue and one red eye. Another male figure holds a bloody sword.
But you just don't know what to make of it. Are these male figures trying to protect an unconscious Wonder Woman, who represents Cuba? Or will they, too, threaten her?
Large circles pop in and out of the canvas, distorting reality even more. Red and blue are major color elements in the palette. Cubans will recognize that as representing their flag, Funk said.
"Ciro was at the gallery talk and said that for him, the figure of Wonder Woman almost sinking in the sea is a symbol of Cuba," Funk said.
There is so much more, including photographs, collages, paintings, plates and a captivating installation piece, "Nkuyo Camp Nfinda" by Jose Bedia.
Funk said she hopes people will find the exhibition an exciting one.
"I hope viewers take from it a curiosity about Cuba and the cultural expression of Cubans," she said. "And I hope they also come away with a new appreciation for the diversity and vitality of contemporary Cuban art."
Also on view is "Shared Vision," a collection of photographs taken in 2003 in Baracoa, Cuba. Is it on view concurrently with "Crossroads." The photographs are culled from the Foosaner's permanent collection.
The Foosaner Art Museum is at 1463 Highland Ave., Melbourne. It is open 10 a.m. to 4 p.m., Wednesdays to Saturdays. Admission is free. Call 321-674-8916 or visit FoosanerArtMuseum.org.