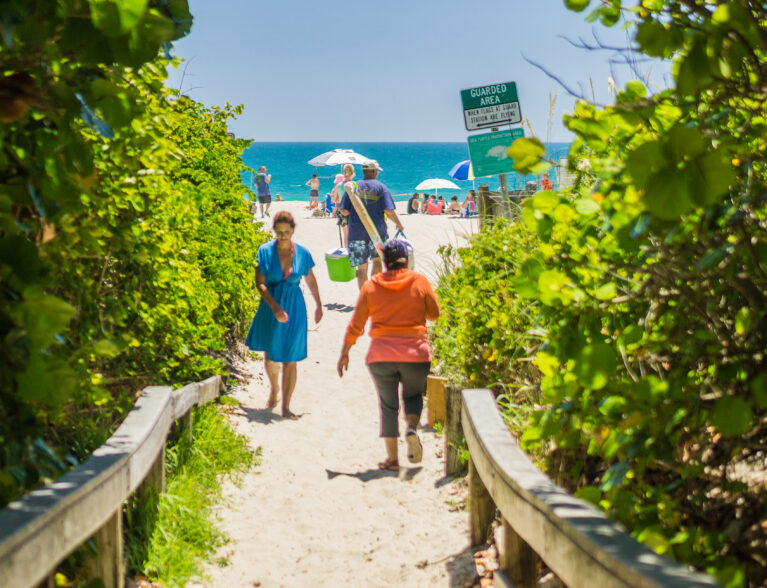 VERO BEACH — The city's three beaches saw more than 5,000 extra visitors last month, beating the previous October record set in 2013 when 44,300 people hit the beach, according to a Vero Beach Lifeguard Association monthly report.
This October saw 49,550 visitors at the city beaches – Humiston Park, South Beach Park and Jaycee Park, officials said. Lifeguard officials said a good economy and cold weather up north may be contributing factors to the growing numbers.
Officials said damage to boardwalks and sand dunes from Hurricane Dorian has been repaired at the beaches.
There were seven medical emergencies on the beach in October. One of those cases was a major incident where a man suffered from a heart condition and was transported to the hospital, officials said.
Lifeguards rescued four people from rip currents last month, bringing the total number of water rescues to nine in 2019. Only a few sea turtle nests remained at the end of nesting season on Oct. 31.
Lifeguards said all of the artificial reef buoys on the Prefabricated Erosion Prevention reef along Central Beach have washed away. Volunteers from the VBLA will try to reattach some of the buoys.
All swimmers should pay close attention to beach condition signs and flags, swim near lifeguard towers and avoid swimming during hours when lifeguards are not on duty, officials said. A 25-year-old Vero Beach man, Bogyu Choe, drowned in late September after he struggled in the waves and then went underwater at South Beach Park.
Lifeguards warned that visitors should not bring dogs to the beaches unless the dog is a handicap-assisted animal. Lifeguards said the dogs can get off of their leashes and pose a danger to beach goers and sea turtle nests.
The VBLA continues its goal of trying to build a new command center and tower at Humiston Beach Park. Lifeguards recently submitted a fun, quirky video to the Ellen DeGeneres Show. The short video explains how the current tower is functionally obsolete and why a new tower is needed.
Lifeguards hope the celebrity and her team will support the project. Vero Beach has already pledged $75,000 toward VBLA's House of Refuge Lifeguard Tower and Command Center project.
Lifeguards need another $225,000 to make that goal a reality.