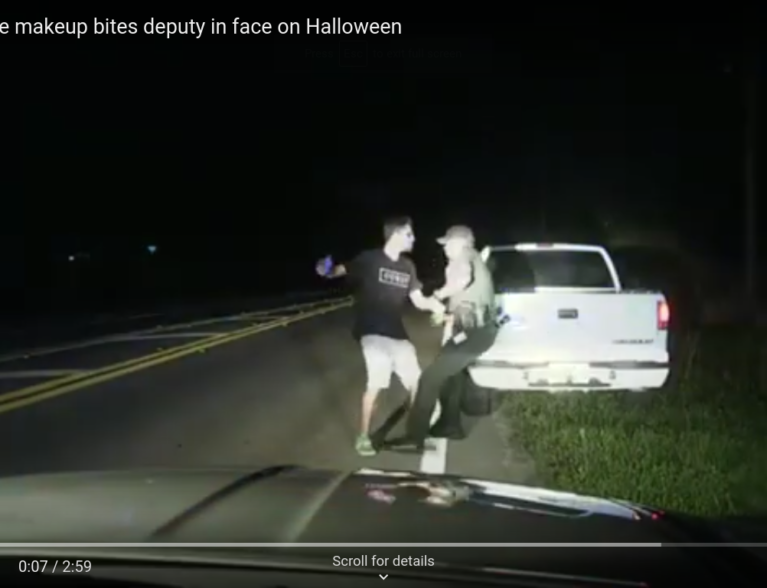 INDIAN RIVER COUNTY — Dashboard footage shows the moments before a man in zombie-like makeup fought with a deputy before biting him in the face during a traffic stop.
The Indian River County Sheriff's Office released the video Thursday. In the footage,sheriff's Deputy Romeo Santana could be heard yelling, "He's biting me," as the man sunk his teeth into Santana's skin near his left eye.
The instance where 24-year-old Cameron Alexander Macias bites Santana happened off camera.
*Note – Profanity can be heard in the footage. Video provided by Indian River County Sheriff's Office
Santana's face was red, swollen and bleeding after the Halloween night attack. Santana was taken to Cleveland Clinic Indian River Hospital for treatment and released later the next day, officials said.
Deputies arrested Macias, of the 500 block of 8th Place, Vero Beach, on a variety of charges including aggravated battery on an officer, criminal mischief and resisting arrest with violence. Macias was held Saturday at the Indian River County Jail without bond.
A woman who was also with Macias, identified as 23-year-old Amber Zeman, was charged with disorderly intoxication. Zeman, of the 3100 block of 73rd Place, was released Nov. 2 from the county jail on $500 bond.
Deputies responded to a disturbance just before midnight Oct. 31 at Zeman's home. Zeman's mother told deputies her daughter and her daughter's friend Macias fought in the driveway before leaving the area in an older model white truck with a broken out window, reports show.
Deputies conducted a traffic stop on a 2003 GMC pickup near County Road 510 and U.S. 1. Deputies ordered the two people inside – Macias and Zeman – to step out of the vehicle, reports show.
One deputy, Melinda Mangel, spoke to Zeman while the other deputy, Santana, spoke to Macias. Mangel said Zeman was intoxicated and yelling so loudly that Mangel could barely get a word in.
A few feet away, Macias was seen talking with Santana near the front of the patrol car when Macias began to walk away from the officer. When Santana grabbed Macias' arm, Macias punched the deputy several times before the two wrestled to the ground and away from the camera, the video shows.
Mangel rushed to help Santana after Macias bit the deputy in the face. The two deputies eventually placed Macias near the hood of the patrol car and tried to detain him.
Macias, with his hands behind his back, appeared to yell at a bystander, saying, "Hey, are you a cop?" several times, the footage shows. Santana and Mangel then punched Macias several times before finally apprehending him.
Deputies arrested Macias and took him to the county jail. Macias was due in court at 9 a.m. Dec. 17, court records show.