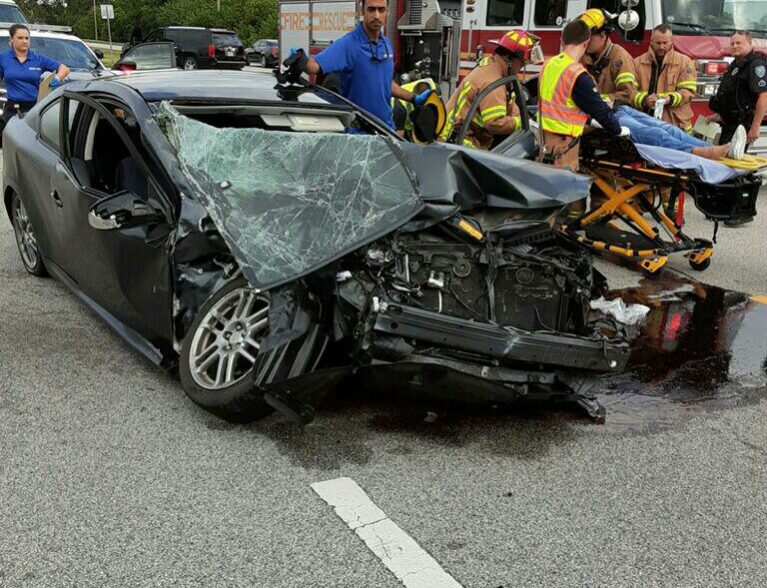 Indian River Boulevard near 18th Street in Vero Beach has reopened following a two-vehicle crash that sent two people to area hospitals.
The crash occurred shortly after 9 a.m. Friday between a silver Dodge Ram and a gray Scion and left the boulevard shut down for two hours. Traffic was diverted onto 18th Street.
The driver of the Scion, was transported by air to Lawnwood Regional Medical Center with serious injuries. As of Friday afternoon, she was undergoing emergency surgery, according to Vero Beach Police Public Information Officer Darrell Rivers. The driver has not been identified but was described as a 72-year-old Vero Beach woman.
A passenger in the Ram, identified as Hector Gonzalez, 19, of Vero Beach, was driven to Cleveland Clinic Indian River with head injuries.
Rivers said the Dodge Ram, driven by Michael Zabitosky, 50, of Vero Beach, was traveling south on Indian River Boulevard when the Scion, heading north on the road, attempted a westbound turn onto 18th Street, crossing the path of the truck. The two vehicles then collided.
The cause of the crash remains under investigation.
Photos courtesy Vero Beach Police Department Public Information Officer Darrell Rivers