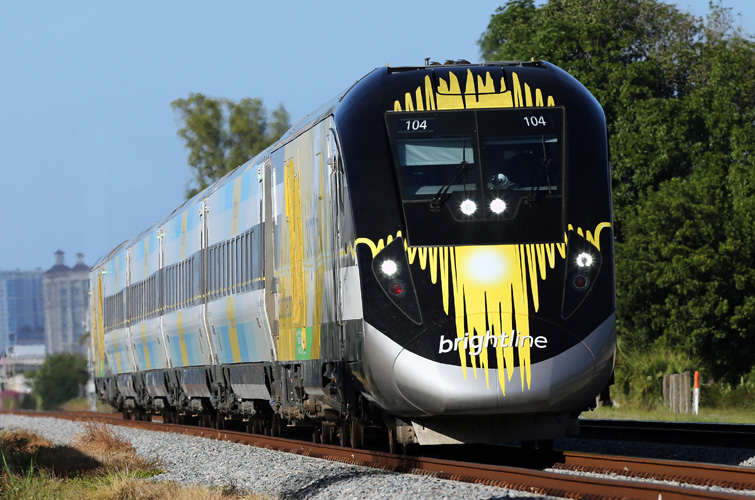 Indian River County residents apparently will have to drive at least an hour to get to a Virgin Trains station after Fort Pierce city commissioners rejected a downtown development proposal submitted by the high-speed rail company.
Since Vero will not have a station, a Virgin Trains station in downtown Fort Pierce – just 15 miles from Vero Beach – would have been fairly easily accessible to island residents wanting to travel by rail to either Miami or Orlando.
But the Treasure Coast station now seems more likely to wind up in Stuart after the Fort Piece City Commission last week rebuffed Virgin Trains and selected Audubon Development's proposal for a mixed-use project on prime Fort Pierce real estate along the railroad tracks near the Indian River Lagoon.
Since Virgin Trains won't be able to cash in on transit-oriented real estate development in Fort Pierce, as it has at its South Florida stations, the company seems unlikely to develop a Fort Pierce station, some officials said.
"With Virgin Trains not being selected as the developer, my opinion is that will significantly alter Fort Pierce's chances of getting a station for the worse," said Indian River County Commissioner Tim Zorc.
"If you look at the other areas where Virgin Trains/Brightline decided to put a station, they control the real estate around the station."
A Stuart train station would be 35 miles and an hour-long drive from Vero to the south. A station in Cocoa likely would be the second closest, 64 miles to the north.
Virgin Trains did not reply to telephone and email messages in the past two weeks seeking answers to questions about the status of proposals to develop stations in Fort Pierce, Stuart and Cocoa.
Many local government officials see the train stations as economic boosters that provide jobs and attract travelers.
Vero Beach did not apply to Virgin Trains for a train station in the city and Indian River County has filed state and federal lawsuits challenging the massive passenger rail project, putting it at crossed swords with the company.
Fort Pierce's rejection of the Virgin Trains USA downtown development proposal on Nov. 12 was a rare setback for the company as it develops new facilities for passenger rail service between Miami and Orlando.
Virgin Trains advanced three other train station deals in the last month in South Florida as the rail project continued to gain momentum.
Virgin Trains plans to run 34 passenger trains per day through Indian River County at speeds of up to 110 mph en route between downtown Miami and Orlando International Airport. Service is now scheduled to begin in summer 2022 but the starting date keeps getting pushed back.
Virgin Trains USA, also known as Brightline, started passenger rail service between Fort Lauderdale and West Palm Beach in January 2018 and added Miami that May.
New track construction began in June on elevated tracks along the Beachline Expressway/State Road 528 between Orlando and Cocoa.
Virgin Trails is also improving the Florida East Coast Railway tracks between West Palm Beach and Cocoa. Construction is scheduled to reach Indian River County next summer.
Virgin Trains agreed to build a train station in Martin or St. Lucie county within five years after starting service between Orlando and West Palm Beach, as part of the 2018 settlement of Martin County's lawsuit challenging the project's financial and environmental approvals.
At least two northbound trains and two southbound trains per day would stop at the Treasure Coast station under the agreement.
The City of Stuart's bid for a station gained traction last month when Virgin Trains asked Stuart and Martin County officials to support federal funding for a $100 million lift bridge across the St. Lucie River.
"VTUSA having our assistance should help greatly on a station and new bridge," said Stuart Mayor Becky Bruner.
However, Indian River County residents would have to drive about an hour to get to a downtown Stuart station, decreasing the likelihood they would ride Virgin Trains, several officials said.
Development of the Cocoa station has not progressed since March 10, 2016 when the Space Coast Transportation Planning Organization endorsed two sites near the Wal-Mart Super Center.
Virgin Trains "has been clear that their first priority is to get service up and running from West Palm to the Orlando International Airport," said Planning Organization Director Georganna Gillette.
Virgin Trains also has been lining up deals in the past two months for new train stations in Boca Raton, Aventura and Port Miami.
Virgin Trains asked Boca Raton on Nov. 12 for $12.1 million and a 1.8-acre parcel for a train station, records show.
Miami-Dade county commissioners last month also agreed to pay $76 million for a new Virgin Trains station in Aventura and are negotiating with the train company for a new station at Port Miami.