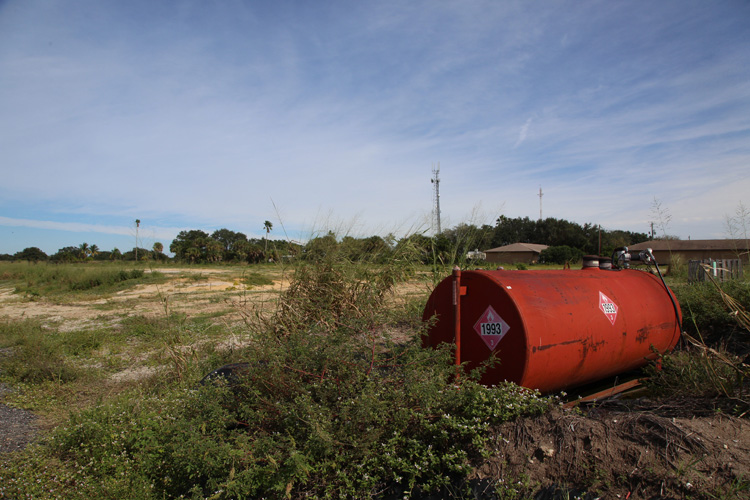 When developer Nicholis Rauch-Heine of NRH Homes announced plans for a 54-home townhouse project on the north side of 12th Avenue just west of Dixie Highway early this year, he thought the project would be near completion by now.
Instead, because of a series of unexpected obstacles, the 8-acre site that was cleared in February is now growing back in as nature reclaims the empty land.
Some of the delays that have plagued Preston Estates include having to relocate 20 gopher tortoises found on the property, problems getting needed roadway access permits, and hiccups in the process of securing approval from the county for construction plans.
"They seem to go – start and stop," said Jason Jeffries, planning director for the City of Vero Beach.
He confirmed that Heine still has an active site plan for the project that is good until December 2020. At that point, the developer has the option to seek a one-year extension if need be.
Heine admits his Preston Estates project "kind of got held up," but says he is now "back on track" and expects to complete the project in 2020.
Some infrastructure has been installed at the site, but Heine said it will take a few more months to finish land development. Once sitework is complete – in February or March – construction will go vertical.
He envisions 27 two-unit buildings plus one lone single-family house situated around a lake in the center of the property.
While the city calls them duplex units, Heine refers to them as single-story townhomes. They will be set up as fee simple units, meaning buyers will own their portion of the unit.
Meanwhile, as the development process proceeds, Heine has listed the entire property for sale as a finished site with ready-to-build lots for $3.3 million.
According to county records, the parcel was last sold in 2016 for $572,000, so if Heine completed the site work and sold the eight acres for $3 million or so, it appears it would be a profitable venture.
"If I get my price, I can't turn it down," Heine said, adding that he fully intends to build the neighborhood in the coming year if no one steps up to buy the tract as buildable land.
Preston Estates is one of two projects Heine has going in Vero Beach. The other is Bridgehampton, a single-family subdivision on the north side of State Road 60 across from Applebee's and Walmart.
Two houses are already completed in the subdivision and five more are in the queue awaiting permit approval. In the meantime, Heine said crews are busy grading and landscaping the property.
He said the plan is to build houses in Bridgehampton just as quickly as they sell.
Heine comes from a South Florida real estate family with companies based in the Palm Beach Gardens area. "Real estate is in my blood," he told Vero News in February. "Both my grandfathers were developers and builders."
He typically teams up with his uncle, Chris Heine Sr., and his cousin, Chris Heine Jr., and that's the case with Preston Estates and Bridgehampton. "We're all part of each other's projects," said Heine, adding that he would "like to do more in the Vero area."
The challenge, he explained, is that there are fewer and fewer opportunities to buy land for development at a price that makes new home projects viable.
At Preston Estates, Heine plans to offer the townhomes starting at $199,000. Units will range in size from 1,300 to 1,600 square feet and will include either 1- or 2-car garages.
Multiple floor plans are expected and include options such as 2-bed, 2-bath and 2-bed, 2 1/2-bath. Heine expects many of his buyers will be millennials and is designing the project to appeal to that demographic.
Preston Estates, named for one of Heine's cousins, will be a short walk away from shops and dining at 12th Street and U.S. 1, as well as to various businesses along Old Dixie Highway. The neighborhood also is relatively close to restaurants, pubs, shops and art galleries in downtown Vero.
More information about the property and project can be found on the commercial real estate website LoopNet: https://www.loopnet.com/Listing/1205-11th-Ave-Vero-Beach-FL/16462849/