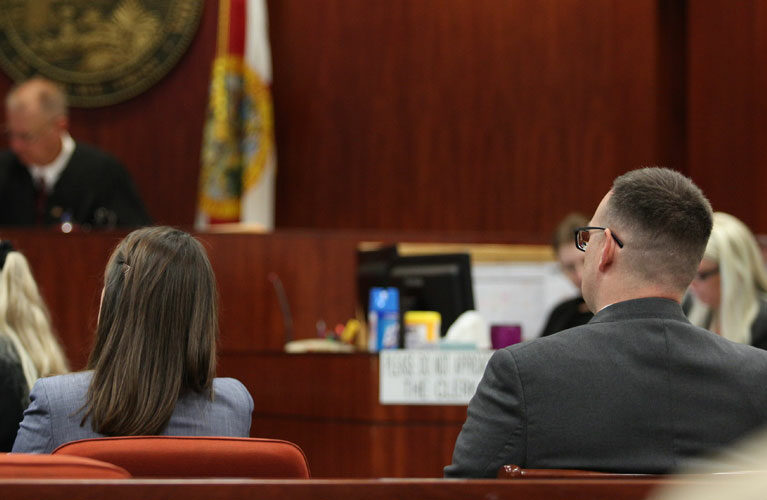 VERO BEACH — As part of convicted killer Michael David Jones' defense team's efforts to save Jones from being sentenced to death by presenting mitigating circumstances, Jones' aunt and uncle testified Friday about the defendant's upbringing.
Jones, 37, who worked as a financial advisor at PNC Wealth Management on Ocean Drive in Vero, was convicted in October of first-degree murder for the June 2014 death of 26-year-old nurse Diana Duve of Vero Beach.
Jones' relatives Teddy and Glynda Jones said that Jones' father David had an explosive temper and was very controlling with his wife and family. But they also said that Michael Jones attended private school, was the youngest child and was "spoiled," and that Jones never lacked for anything.
Uncle Teddy Jones, who worked in a construction business with his brother David Jones, said that when defendant Michael Jones was in college at the University of Georgia, the family construction business was struggling, work was drying up. The family could not afford the extra expenses of Michael's fraternity that his father David Jones encouraged Michael to join.
Teddy and Glynda Jones testified that once, David Jones choked his son Michael and Michael recuperated for a few days at their home on their couch. Teddy Jones said David Jones was upset that Michael had been "whining" the whole way on a road trip to a doctor's appointment, complaining that the road was very bumpy and hurt his back — injured in a motocross accident.
That incident when Jones was about 20 years old was the only time the aunt and uncle could remember David Jones hurting his son physically. Glynda Jones said her brother-in-law David Jones was verbally abusive, especially to Michael's mother, Debbie, but that to her knowledge, Michael was not physically abused in childhood.
When court broke for lunch, Board-Certified Neuropsychologist Dr. Joseph Sesta was on the stand, describing tests he had performed on Michael Jones in jail.
Sesta said Jones was on nine different medications, including anti-psychotic drugs and drugs for epilepsy at the time he evaluated Jones – a combination he called "a psychopharmacological nightmare" with regard to the intricate testing performed. Still, Sesta said he observed several clear signs that Jones had frontal-lobe damage to his brain, which could affect impulse control.
An experienced expert medical witness who earns most of his income from forensic work, Sesta said he conducts his tests with the assumption that people lie or fake. In civil cases, he said, people are seeking large cash judgments, and in criminal cases, defendants are hoping "to get out of trouble." Despite this assumption, Sesta assured the jury that Jones was not faking during the tests.
Sesta will continue to present Jones' neuropsychology results when court resumes. Judge Dan Vaughn asked jurors to return at 1:15 p.m.