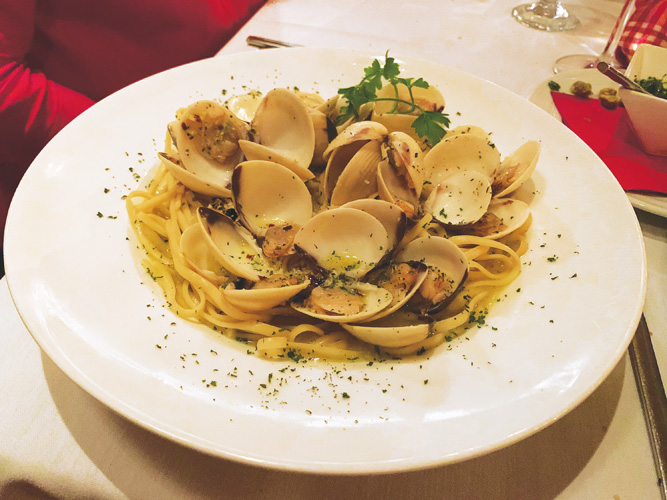 From time to time, we highlight fine-dining restaurants that are within an hour drive from Vero.
To our south, 11 Maple Street in Jensen Beach is an example of an establishment with a quaint atmosphere and extraordinary food – well worth the trip and the cost.
Our latest discovery of an eclectic restaurant that you may enjoy visiting – this time to our north – is Scott's on Fifth in Indialantic, about 50 minutes from Vero via either US 1 or A1A.
It's fairly easy to miss this restaurant, which is almost lost in a line of shops near the seaside end of Route 192 (which doubles as Indialantic's Fifth Avenue). And to make matters even more confusing, parking is behind the restaurant – along with what actually serves as Scott's front door.
But once through that door, you're in for a special dining experience. Fancy wall sconces, candles and crystal chandeliers cast a soft glow off red and violet walls adorned with several large, bold art works (and many smaller ones).
The restaurant is cozy, but tables are set a comfortable distance apart to allow guests to enjoy their conversation.
The kitchen is a one-man show, with everything prepared personally by Chef Scott Earick, a former Italian soap opera star and TV chef. Just this past spring, Chef Scott was selected by the James Beard Foundation to showcase his culinary skills at an event in New York.
We chose our wine with the help of veteran server Pepper, who seemed intimately familiar with both the regular menu and the specials Chef Scott was preparing that night.
He brought us a basket of warm bread, and we were very happy we took his suggestion and ordered an extra dish of freshly made pesto ($4) for dipping.
For starters, I decided to have that evening's special soup, chicken noodle, and my husband ordered a Caesar salad with anchovies ($9). The soup was good though a bit unusual, tasting less like chicken noodle and more like a very light minestrone. My husband, however, said his classic Caesar salad was excellent.
Then for entrees, I settled on the linguine vongole ($28.95) and my husband went for the crispy yellowtail snapper ($36.95).
The vongole was one of the best I have ever had. Pepper told us Chef Scott had recently been in Italy, and had brought back the recipe from a chef friend. The tender juicy clams were wonderful as was the perfectly prepared linguine.
My husband's baked yellowtail snapper was prepared with Chef Scott's signature parmesan crumb crust. It was adorned with chunks of lump crabmeat – which in this case worked very well – and was drizzled with a very light lemon butter cream. Perfection.
We concluded our meal with a double espresso ($5).
Our tab for dinner and a bottle of a nice chardonnary ran $115 before tax and tip.
In addition to fish and seafood, Scott's menu offers a wide variety of steak, veal, lamb and pasta dishes, plus a range of creative appetizers and tempting desserts.
Is this the best restaurant in Brevard County? Hard to say. But it is an extremely pleasant place to dine, the food we tried was excellent, and it's really a fairly easy drive.
I welcome your comments, and encourage you to send feedback to me at tina@verobeach32963.com.
The reviewer is a beachside resident who dines anonymously at restaurants at the expense of Vero Beach 32963.
Scott's on Fifth
Hours: Tuesday – Sunday, 5:30 p.m. to close
Beverages: Full Bar
Address: 141 5th Ave., Indialantic, FL
Phone: 321-729-9779