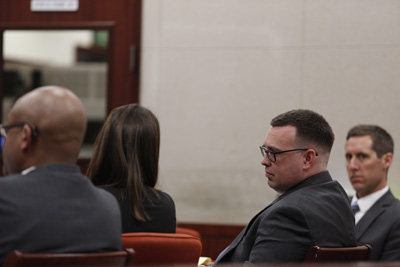 VERO BEACH — Thursday's testimony in the sentencing phase of the first-degree murder trial of convicted killer Michael David Jones focused on Jones' brain and psychological function.
California-based brain researcher and retired psychiatry professor Dr. Joseph Wu testified that a PET scan of Jones' brain showed damage which could affect his behavior and impulse control. Wu said that it's impossible to diagnose CTE (Chronic Traumatic Encephalopathy) without an autopsy, he could say that Jones is likely predisposed to the brain disease due to repeated head injuries from motocross and football. On cross-examination, prosecutors pointed out that there was no direct evidence Jones had sustained any head injuries from these sports.
Nova Southeastern University professor Steven Gold Ph.D said that after several interviews with Jones and family members he could say Jones had suffered trauma from alleged childhood abuse, but he would diagnose Jones with PTSD.
On cross examination Chief Assistant State Attorney Tom Bakkedahl attacked Gold's methods, saying that he failed to review numerous available sources of information relevant to Jones' behavior, work performance and close personal relationships.
The defense will continue on Friday and Monday with witnesses who are expected to present sympathetic arguments called "mitigating factors" that Jones should not be sentenced to death for the June 2014 killing of 26-year-old Diana Duve.
On Wednesday the state concluded its case of presenting "aggravating factors," including several passionate victim impact statements by family and friends of Duve.
At the end of the process the jury must weigh the aggravating and mitigating factors and decide between the death penalty and life in prison with no parole for Jones.