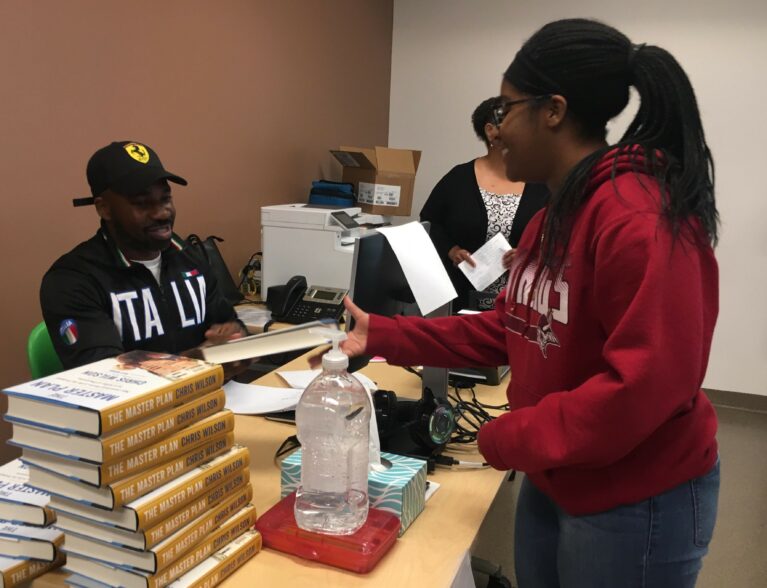 A heart-to-heart conversation a young Chris Wilson had with his grandfather many years ago has stuck with him to this day.
His grandfather, dying of cancer at the time, told Wilson he was disappointed in him for not applying himself in school, smoking marijuana and carrying guns. The grandfather made Wilson promise that he would turn his life around.
"I was young and already in the streets, trying to figure life out," said Wilson, now 40 years old.
For Wilson, that promise would eventually become a reality, but not before several heartbreaks and detours in his journey, from prison to personal tragedy. On Tuesday, Wilson spoke at Gifford Youth Achievement Center about his journey from prison to becoming the owner of three businesses and an author.
"It was the greatest feeling in the world speaking to the youth," Wilson said. "I remember when I was young, I wanted to see successful people (in my school). It felt good to give them hope that they can have a really good future if they work really hard at it."
His story, detailed in his book 'The Master Plan', revealed the circumstances many youth are exposed to who live in cities plagued with gun violence, drug addiction and poverty. Wilson said he had to watch five friends be buried by the time he was 17 years old.
"In my neighborhood, people would get killed for their clothes and shoes," Wilson said.
Family tragedies
Wilson, a Washington D.C. native, experienced two family tragedies while growing up in the city.
Wilson said his brother and cousin were both shot. The cousin, shot 17 times, died in 1993. Wilson said he struggled to pay attention in class because of the trauma of losing his family members.
To make matters worse, Wilson and his mom suffered beatings on occasion at the hands of his stepfather. Wilson said he remembered coming home one day to find his stepfather beating and raping his mother.
The stepfather was eventually arrested and charged, but released on parole about a year later. Wilson said his stepfather began stalking his family and threatening them.
One night, Wilson was at a gas station when he was approached by two men. When the men threatened Wilson, Wilson pulled out a firearm and sprayed bullets toward their direction.
One of the men was struck and died, Wilson said. Wilson was charged as an adult with first-degree murder, convicted and sentenced to natural life at the age of 17 in 1996.
"I barely had a mustache on my face," Wilson said.
Wilson thought his story had concluded with the life sentence, but it was just the beginning.
Making progress behind bars
Wilson said he fell into a deep depression while at Paxtuent Institution in Jessup, Maryland. The memories from his grandfather's conversation were implanted in his head, as Wilson had plenty of time to think about his past along with his future.
Wilson said he met a few inmates who had a goal of getting out of the institution by educating themselves. Wilson found himself motivated by surrounding himself with these individuals.
He met one inmate who was studying a book for computer programming. Another inmate mentored Wilson in mathematics.
Inside his dark cell, Wilson eventually created a 'master plan,' which detailed different goals he wanted to accomplish in life. One of those goals was to build a business empire and help others.
Even in prison, Wilson set on making those goals a reality from learning.
"My track coach (from my high school years) had the biggest impact on my life. He gave me mental toughness by telling me to not quit," Wilson said. "I took that same stubbornness and applied it to all aspects of my life."
Wilson said he earned his high school diploma and an associate of arts degree in sociology from Anne Arundel Community College while behind bars. Wilson also taught himself to speak and write in other languages including Spanish and Mandarin, started a book club and career center.
Wilson said he would write letters to the judge in his case each year giving updates on his progress. Wilson also sent the judge copies of his certifications and degree.
With all of Wilson's accomplishments in prison, the judge eventually reduced his sentence. In 2012, Wilson was released after serving 16.5 years total.
As a free man, Wilson stayed on track with completing his master plan tasks and not returning to prison.
'The Master Plan' becomes reality
Wilson moved to Baltimore after his prison release. He went back to school and earned a bachelor's degree in business administration and entrepreneurship studies from the University of Baltimore.
With help from community partners, Wilson created three businesses – most of which employ felons who have been released from jail or prison. His businesses are Barclay Investment Corporation, a residential and commercial construction contracting company; Master Plans Productions LLC, which produces video content to advocate for criminal justice reform; and House of DaVinci, which specializes in furniture restoration.
Wilson said his businesses have hired at least 50 people that were rejoining society. On Sundays, which is his off day, Wilson said he creates paintings, some of which have been sold around the world in places such as Sicily, Italy; Paris, France; Barcelona, Spain; and Colombia, South America, as well as in the United States.
"Painting gets me out of bed in the morning," Wilson said.
Wilson's first book, 'The Master Plan,' has sold more than 40,000 copies. Wilson was previously invited to the White House by former President Barack Obama and has told his story on national media platforms including MSNBC, CNN Business and even Forbes.
Reflection
Looking back on the twists and turns throughout his life journey, Wilson said he now knows why his grandfather was disappointed in him as a child. The grandfather wanted Wilson to 'change the world,' Wilson said.
If his grandfather were still alive, Wilson said he would tell him he is the owner of several multi-million dollar companies in Baltimore. Today, he tours college campuses and community centers like GYAC, talking to teens and inspiring adults to do better.
Wilson said his most valuable lesson was to reach out to people.
"When I was young, I kept stuff bottled up," Wilson said. "It's a sign of strength to talk about vulnerability."
Photos by Nick Samuel