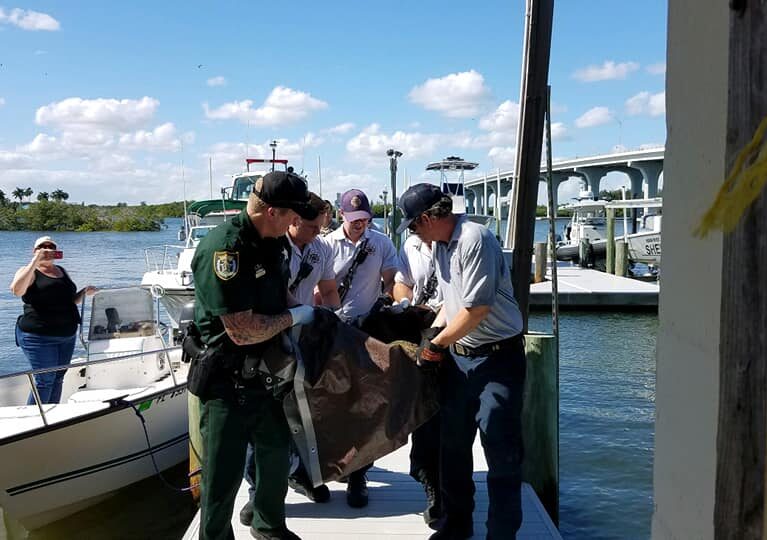 INDIAN RIVER COUNTY — Deputies and firefighters rescued a large injured sea turtle that was struck by a boat over the weekend and suffered a large cut across its shell.
An angler spotted the 200-pound sea turtle at channel marker 130 Sunday in the intracoastal waterway, deputies said. The marker is about one mile north of the Merrill P. Barber Bridge.
The Indian River County sheriff's marine unit, a road patrol deputy and four firefighters responded to the scene. The emergency responders used a large net to catch the turtle.
The turtle was taken to Indian River County Fire Station 2. A volunteer with wildlife rescue later transported the animal to Loggerhead Marinelife Center in Juno Beach.
"This was a community effort with citizens, fire rescue, IRCSO & FWC coming together to save this injured 200 lbs sea turtle," sheriff's officials said.
Employees at the animal hospital nicknamed the turtle 'Blaze,' Public Relations and Engagement Specialist Lauren Eissey said. Eissey said the unintended boat strike caused some nerve damage to the turtle.
"The turtle is floating because of a large amount of gas in its intestine," Eissey said. "The turtle is being treated and is expected to be released soon back into the wildlife."
Photos provided by Indian River County Sheriff's Office