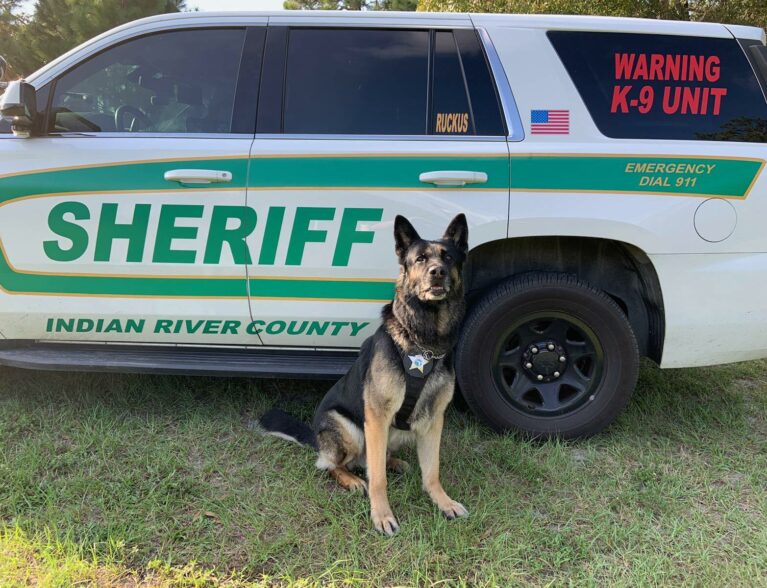 INDIAN RIVER COUNTY — A 25-year-old man suspected of breaking into a woman's garage before later punching a sheriff's K-9 deputy and his dog, was detained Nov. 1.
Indian River County deputies arrested Timothy John Wendaur, of the 3200 block of 1st Place, Vero Beach, on a variety of charges including battery on a police dog, battery on an officer, burglary and criminal mischief. Wendaur was held Sunday at the Indian River County Jail on $46,000 bond.
It was unclear if the deputy – identified as Ryan Holly – and his canine partner Ruckus had serious injuries.
Deputies responded to a burglary about 8:30 a.m. Nov. 1 at a home in the 4900 block of 4th Street. A woman told dispatchers a man with a white muscle shirt, who she did not know, walked into her home unannounced.
The man – identified as Wendaur – was rambling incoherently before he went back outside and walked into the detached garage, reports show. The woman locked the door and called 911.
Deputy Holly arrived at the scene and ordered Wendaur on the ground in front of the garage, which was west of the home. Another deputy responded to help Holly take the man into custody.
But, Wendaur began pulling back his arms when deputies tried to detain him, reports show. Wendaur got up, pushed both deputies and ran back into the garage.
Ruckus ran after Wendaur and latched onto him, but Wendaur continued to fight, reports show. Deputies said Wendaur punched Ruckus and Holly in the face.
Deputies eventually detained Wendaur and put him in the backseat of the patrol vehicle. The woman in the home later noticed Wendaur had removed a windowpane from the garage window and went in her car parked inside, reports show.
It was unclear if any items were taken from the vehicle.
Wendaur was arrested and taken to the county jail. Wendaur has an arraignment at 8:45 a.m. Dec. 6, court records show.