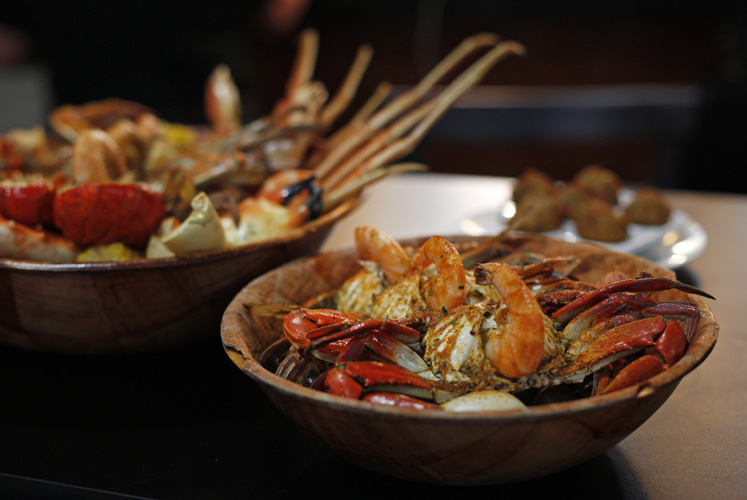 After five years and goodness knows how many thousand crabs, the Crab Stop of Vero Beach has moved from its hole-in-the-wall startup location at the northern end of 14th Avenue into much larger quarters on Royal Palm Pointe.
While the art on the red walls (paintings of New Orleans street scenes) remains unchanged from the space's previous occupant, Cajun Cove, the restaurant we found on a visit last Tuesday was far more casual – and far busier – than its predecessor.
Seated toward the rear, we had an excellent vantage from which to observe heaping platters of steamed blue crabs and snow crab clusters – accompanied by jumbo shrimp, corn coblets and mounds of potatoes – making their way to tables.
I was intent on ordering some of the blue crabs, despite the fact that they tend to be high in cholesterol.
While the menu offers a variety of tempting "table combos" that include shrimp and even lobster, my husband has never been a big fan of the whole blue-crab experience. So I wound up soloing with two "add-ons" – a half dozen garlic crabs ($30), along with a pound of potatoes ($2.99).
My husband ordered the crab cake dinner ($15.95), served with garlic potatoes and slaw.
My garlic crabs were extremely tasty – the Crab Stop seasons the crabs not with Old Bay but its own spice mixture. But the amount of work required to extricate the meat from the shells left me exhausted, and still a bit hungry. I was glad for the mound of potatoes.
My husband's two "crab cakes" consisted of a well-seasoned crab meat mixture stuffed inside crab shells, fried, and served with a side of rémoulade sauce. An attractive presentation, but like my garlic crabs, not a lot to eat. Again, garlic potatoes saved the day.
Fortunately, before our entrées we had started with two bowls of soup – the New England clam chowder ($5.95) and the lobster bisque ($5.95). I liked the clam chowder better than my Massachusetts husband, but the homemade lobster bisque enhanced with a dash of sherry was tasty.
But my advice would be to round up some friends who love Maryland-style blue crabs – or snow-crab clusters – and head for the Crab Stop with at least a party of four to feast on one of the table combos or the even larger seafood platters.
The new location is a big step up from 14th Street, and for nice evenings, there is seating out back on the canal. I also should note that Crab Stop for the past year also has been filling a second restaurant of the same name on the river in Sebastian.
I welcome your comments, and encourage you to send feedback to me at tina@verobeach32963.com.
The reviewer is a beachside resident who dines anonymously at restaurants at the expense of Vero Beach 32963.
Crab Stop
Hours: Mon.-Thurs. 11 a.m. to 8 p.m.; Fri.-Sat. 11 a.m. to 10 p.m.
Beverages: Full Bar
Address: 89 Royal Palm Point, Vero Beach
Phone: 772-257-5221
Photos by: Kaila Jones
Click HERE to see more or buy photos