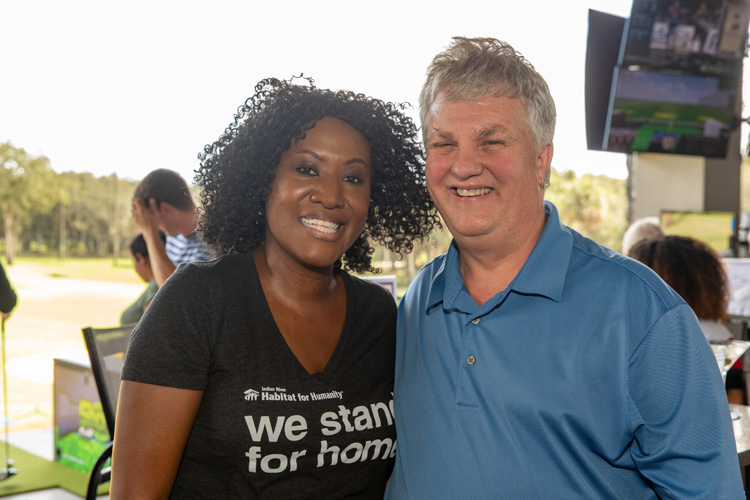 A sold-out crowd teed up for an inaugural We Golf Fore Habitat fundraiser at BigShots Golf recently to benefit Indian River Habitat for Humanity. With each swing of the club and smack of the ball, attendees were loud and clear with their message of support for Habitat's mission of bringing people together to build homes, communities and hope.
"This past year we served 138 families through our repairs program, the new construction program and also the scholarships that we give to Habitat homeowners and their children," said Eve Kyomya, Habitat director of community development, adding that event proceeds would go toward the Habitat Scholarship program.
To change things up a bit this year, Habitat traded in bowling balls for golf balls, replacing the former Bowl to Build Scholars with this event. In addition to golfing, guests enjoyed a delicious buffet spread, purchased raffle tickets and bid on silent auction items.
"We're here to raise money and awareness for our scholars," said Sheryl Vittitoe, Habitat CEO. "We know for a fact that those families who can live in a stable, safe and decent, affordable home – that if you stabilize the home environment, the educational dreams become a reality."
She added that Habitat scholarships provide homebuyers and their dependents with a fundamental element toward breaking the cycle of generational poverty. She noted that educational dreams are made possible once people are no longer living in survival mode; but rather as responsible homeowners.
Vittitoe also shared that an anonymous donor has committed to a $50,000 challenge match in support of the scholarship program.
Future events include an Island-Themed Spring Party on March 14 and the Realtor's Hop for Habitat 5K Run/Walk. For more information, visit irchabitat.org.
Photos by: Denise Ritchie
Click HERE to see more or buy photos