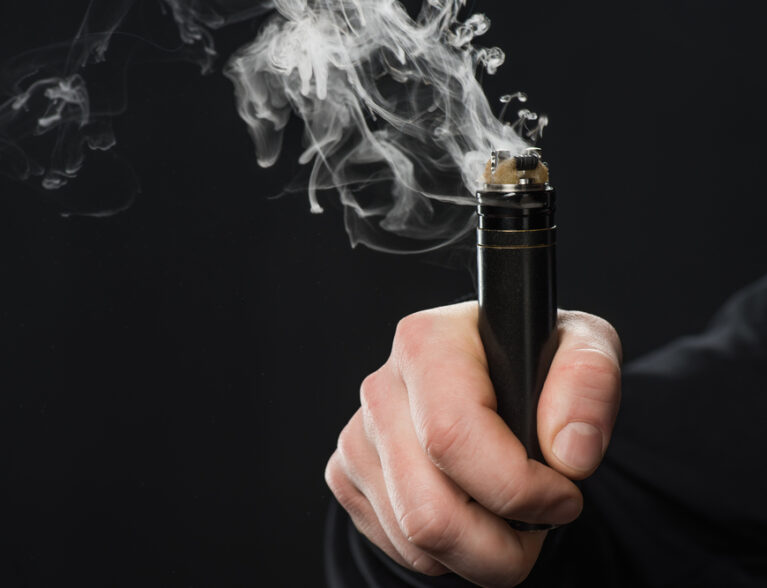 Teen vaping already is "a growing epidemic" or is "approaching epidemic status," according to various school and health officials in Indian River County who are mounting a coordinated effort to reduce the use of flavored, potentially toxic nicotine products by school children.
One out of every five students in Indian River County in grades six through 12 say they've tried vaping, according to recent county-wide surveys, and the number of children vaping regularly is increasing rapidly – a trend local school and health officials are characterizing as a "crisis."
"The rates are very high in Indian River County – we are leading the state," said Carrie Lester, executive director for the Substance Awareness Center of Indian River County. "We're approaching epidemic status."
The issue is of such great concern to the Indian River County School Board that it recently became the first school board in the state to pass a resolution urging lawmakers to pass stricter guidelines and oversight for electronic cigarettes.
"The board felt it needed to lend its voice because this is a growing epidemic and it's not going away without an all-out effort," said Board Chairman Laura Zorc.
The Substance Abuse Center conducted its survey in March, 2019. The results were similar to those found by a 2018 Florida Youth Substance Abuse Survey, which reported that 22.7 percent of IRC high school students reported vaping within the past 30 days prior to taking the survey.
"E-cigarettes are tobacco products that deliver nicotine and Nicotine is a highly addictive substance," notes a 2016 Surgeon General's report. "Many of today's youth who are using e-cigarettes could become tomorrow's cigarette smokers. Nicotine exposure can also harm brain development in ways that may affect the health and mental health of our kids."
John Hopkins Medicine adds, "Nicotine is a toxic substance. It raises your blood pressure and spikes your adrenaline, which increases your heart rate and the likelihood of having a heart attack."
Making matters worse, some vaping products are adulterated with other dangerous chemicals, including THC.
Teen use and abuse of vaping chemicals is exacerbated because the volume of nicotine consumed is hard to keep track of, according to Lester and Christina DeFalco, director of prevention programs for the Substance Abuse Center.
Traditional cigarettes have filters, making it easy to monitor how many cigarettes have been smoked, but electronic cigarettes work by inserting a pod of liquid containing nicotine and other chemicals. Each pod contains as much nicotine as 20 cigarettes, or one pack. With no butts to count, kids may consume large amounts of nicotine without realizing it.
As of September, the Centers for Disease Control and Prevention and state agencies had reported 1,604 lung injury cases and 34 deaths linked to vaping in 2019.
Several owners and managers of local vaping businesses declined to be interviewed when asked about teen vaping. But a manager at one store talked about what he has seen. He asked that his name not be used because he did not have permission from the store owner to speak to the media.
Like cigarettes, electronic cigarettes and nicotine pods cannot be purchased by minors, the store manager said. But kids rely on the long-standing tradition of finding adults to purchase the electronic cigarettes for them. They also quickly learn what businesses will sell the pods without asking for proof of ID.
"There are several vaping shops in Vero Beach that make their own pod mixes," the store manager said. "They put ingredients that shouldn't be put in the pods, like high levels of THC.
"These are the bootleg pods that kids are getting their hands on. Those are the businesses that are causing the problems."
Lester and DeFalco confirmed that THC and lead are among the ingredients being found in these bootleg pods which are sometimes sold at gas stations and other unauthorized dealers.
"During the past three years we've seen an increase in overdoses and incidents of psychosis in youth who are vaping," DeFalco said.
Vaping products manufacturers enhance their products with fruit and candy flavors to make them more appealing to children.
Electronic pens, the devices used most often for vaping, are small and are easily concealed, DeFalco said. Students often carry the pens openly in school because they are disguised to look like flash drives or highlighters.
To combat the trend, the Substance Abuse Center, in partnership with the school district, is using a weekly Life Skills Class to educate students about the dangers of vaping.
The class, which is focusing on students in grades five through eight, concentrates on four primary topics – vaping, general tobacco education, underage drinking, and other drug use, including marijuana, according to DeFalco.
"This year we are working with 5,000 students in Indian River County, with a focus on vaping," she said.
On the island, St. Edward's school staff launched their own anti-vaping efforts last year and followed up at the beginning of the current school year by hosting a community presentation to educate students and parents, said Jack MacMullen, Head of Upper School.
The event, which was held in the school's auditorium, attracted nearly 200 students and parents.
St. Edward's has integrated its anti-vaping program into its overall class curriculum this year, said Samantha Borkovic, the school's Upper School Counselor.
For example, all middle and high school students must enroll in a moral and ethical codes class intended to teach students how to make smart choices, Borkovic said.
The classes incorporate information about the dangers of vaping, alcohol use and other drugs.
"You can't just tell somebody to not to do something," Borkovic said. "That approach doesn't do any good. We need to teach them why and how."
Cristina Pines, a junior at St. Edward's says vaping remains popular with students. Part of the appeal, she believes, is students try it because they want to "fit in," or they are trying to cope with stress.
"The [anti-vaping] classes and programs are good reminders for me," said Pines, who added that she has never tried vaping herself. "My addiction is sugar."