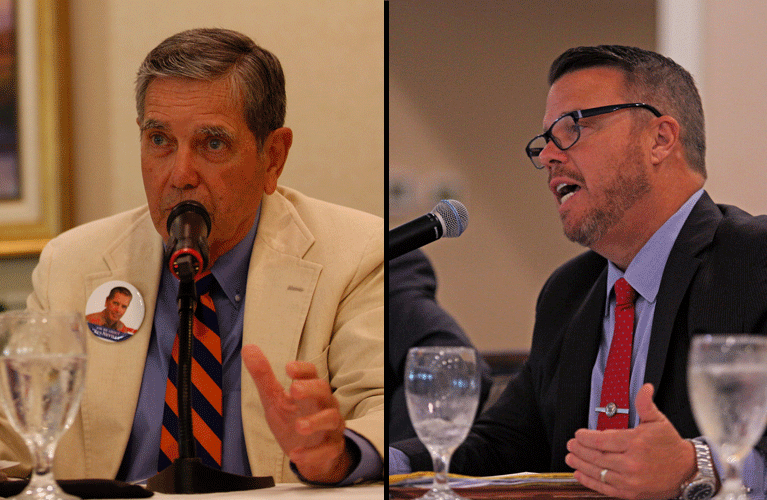 VERO BEACH — Political newcomers and island residents Rey Neville and Joe Graves snagged open seats on the Vero Beach City Council in Tuesday's municipal election.
The pair finished at the top of a crowded field of eight candidates in the nonpartisan election in which 4,400 ballots were cast, according to the Indian River Supervisor of Elections. The city has a total of 12,260 registered voters.
They will replace outgoing Mayor Val Zudans and Councilman Harry Howle, who did not seek reelection.
Graves, 56, a well-known local attorney who touted his position as a fiscal conservative and placed  redevelopment of Centennial Place at the top of his priority list, garnered 26 percent of the vote — 1,144 votes total.
Neville, 77, a retired Air Force colonel and former executive at a plastic manufacturer in St. Louis, threw his hat into the race to carry out the will of the people regarding city projects including the redevelopment of Centennial Place and the Vero Beach City Marina.  He captured 18.7 percent of the vote — 823 votes total.
During the race, both candidates largely agreed with each other on key issues facing the city.
"My responsibility as a council member is to see that the will of the people is done," Graves previously told Vero Beach 32963 of the importance of public input on the redevelopment of Centennial Place and the Vero Beach City Marina — a point Neville also stressed. "I'm not coming in with an agenda."
Both also recognized the need to address the shortage of beachside parking spaces. Partnerships between businesses to share private lot space is a vital component to finally fixing the seasonal problem, Neville told Vero 32963 last month.
"My order of preference is first to develop a comprehensive plan to present to our neighbors who own these lots to see if we can't find a strong cooperative working arrangement either between the businesses or with the city intervening in the middle to make sure they're not harmed by frivolous lawsuits or trash in their parking lots," Neville said.
Neville and Graves beat Nick Thomas, Brian Heady, Jeff Nall, Bob McCabe, John Cotugno and Estelle Panagakos.
Both will be sworn in on Nov. 18 at 10 a.m. at City Hall. A new mayor and vice mayor will be chosen by the council on that date. The salary for a council member is $900 per month, while the mayor makes $1,125 per month.