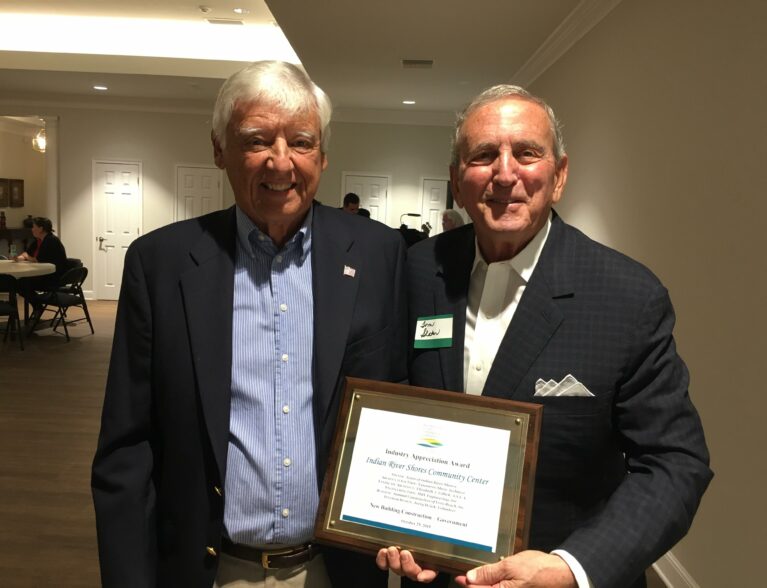 INDIAN RIVER SHORES — In late 2017, former Shores Vice-Mayor Gerard 'Jerry' Weick began designing drawings for a new community center when he noticed the old building was falling apart.
Weick, who retired as vice-mayor in 2016 and has a background in construction, said he went through a few different designs until he finally found the right one. The old building, made of wood, was a model for the city's Victoria Condominiums and donated to Indian River Shores more than 30 years ago, Weick said.
"The old community center was in very poor condition (because of storms from 2004 and 2005)," Indian River Shores Mayor Tom Slater said. "Weick took on the challenge of getting the community center updated for Indian River Shores. He lived and breathed in getting this building built. I think Jerry and town council did a good job."
The current vice-mayor, Robert Auwaerter, said there were problems with the foundation of the old building. It got to a point where the facility could not be refurbished.
"We wanted a building people in town could be proud of," Auwaerter said. The fiscal year 2016-17 budget for Shores included engineering and design costs of $35,000, officials said.
Weick collaborated with a team of engineers and architects to tear down the old building last year. In a mission to bring an updated facility to serve its residents, the team constructed a modern, eco-friendly building that is already being used by several neighborhood organizations, including the Rotary Club, the Alzheimer & Parkinson Association of Indian River County and bridge groups.
The building is also available for one-time rentals for birthday parties, weddings and other activities, officials said. About one hundred guests enjoyed music from Beachside Jazz band and refreshments as they toured the new building at its grand re-opening Friday evening.
"It's a big improvement," Weick said.
The new center has impact doors and windows, icynene insulation in the concrete blocks and roof; LED light fixtures with motion sensors; three high-energy efficiency heating, ventilation and air conditioning units; re-purposed cherry-louvered petitions and doors in the restrooms; and re-purposed chandeliers and wall scones, officials said. The building also has a caterer's kitchen.
The new facility is stair-free, handicap accessible, compliant with Americans with Disabilities Act codes and is landscaped with slow-growing native plants that are salt-tolerant and wind resistant, officials said. The building design was so impressive that the Indian River Chamber of Commerce awarded Shores with the Industry Appreciation Award – New Building Construction this past Tuesday.
"I want to congratulate the town of Indian River Shores on receiving the architect award from Indian River Chamber of Commerce for the beautiful new community center," Vero Beach Councilmember Laura Moss said.
Construction on the new building started in August 2018 and was completed in August 2019. The center, which is 4,040 square feet total, was constructed by Summit Construction.
Former Shores Mayor Barbara Holmen-McKenna said the new building is wonderful and that the old facility was falling down around itself. Holmen-McKenna, who was the first and only woman to serve as the town's mayor, was on town council from 1992 to 1996 and was mayor from 1996 to 2000, she said.
"This town needs something like this, a place where you can gather," McKenna said. "I enjoyed the (re-opening event) very much."
Other partners that helped with the design and construction of the building were Architect Vasantrao Omar Shere, Landscape Architect Elizabeth Gillick, and engineering firm MBV Engineering. The center, located at 6001 N. State Road A1A, is surrounded by other city facilities nearby, including the Indian River Shores Public Safety Department, town hall, town council chambers and the building department.
"It's a very important addition to the community," Indian River Shores Public Safety Director Rich Rosell said. "We have already used it to hold community-related education seminars, and we plan to use it many times more in the near future."
The new building is one-third larger than the previous center, Slater said. Weick said he hopes everyone will enjoy the center.
The facility will also be a voting site for the upcoming elections Tuesday.
"I'm glad it turned out good. I'm happy," Weick said.
Photos by Nick Samuel