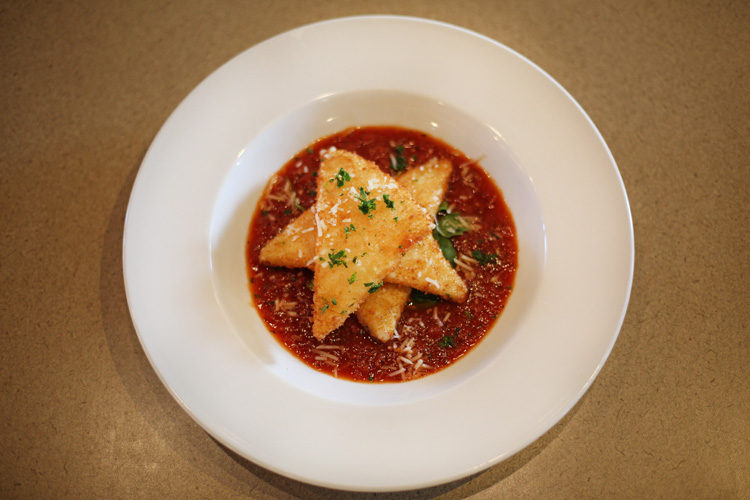 Every decade or so, Glenn Pacicca seems to get the urge to open a pizza and pasta joint. The first two – on Miracle Mile from 1985 to 1992 and in Sebastian from 1991 to 2005 – both had a lot of fans. And now we have the third coming of Prima Pizza and Pasta, this time on Vero's 14th Avenue.
Headline news: Given the number of people with fond memories of the old Prima pizzas, it seems just a matter of time until word gets around that the Pacicca family is back, and this latest venture starts to take off.
Look & feel: Prima Pizza and Pasta is located in the space most recently occupied by the short-lived reincarnation of Mamma Mia's, and before that by Bijou and the French Quarter. It has been totally redecorated and while the brown ceiling, floor, half the wall and the park-bench-like seats make the dining area a bit dark, the bright upper wall and tabletops give it a clean, open feel.
Food: Last week, our party of Italian-food lovers sampled an assortment of appetizers, entrées and pizzas on two separate visits.
Let me begin by saying that their home-made garlic knots ($3.95 for a plate of six) set the new Vero standard for this addictive starter. Served with a tomato sauce, you could easily fill up on these if you weren't careful.
And that would be a shame because another antipasti – the calamari fritti ($8.95) – is also among the best around. A plate of flash fried calamari, served with Calabrian red peppers, fresh herbs, slivered garlic and a balsamic glaze, went very quickly. Excellent.
Entrees at Prima are served with a small house salad, and these are dressed with a tasty herb vinaigrette that includes crumbled gorgonzola.
As for Prima's entrees, reviews from members of our party were decidedly mixed. I thought the eggplant parmesan ($18.99) was one of the best I've had recently, and both the veal Milanese ($23.99) and Prima's house specialty, brick oven baked cannelloni ($15.99), got high marks. But the penne alla vodka ($12.99) was totally lacking in flavor, and surprisingly, linguine in a so-so white clam sauce ($13.99) was lacking in clams.
But the only disagreement about the pizza was whether Prima's regular thin crust or its Sicilian thick crust was better. Both were brought to the table cooked perfectly – the regular pizza with a crust that was nice and crisp, and the Sicilian with a thick, spongy crust that had spent just the right amount of time in the oven.
Drink: Prima Pizza and Pasta has a decent selection of beer and wines to accompany your food (I liked their premium chianti), and it also serves cocktails.
Service: For a new restaurant, service – with several family members involved – was more than attentive.
Prices: Prices for entrees range from $9.99 (for a dish of spaghetini in a marinara sauce) to $27.99 (for a pan-seared veal chop). Thin pizzas start at $9.85 and Sicilian at $11.85, with regular and gourmet toppings extra.
Initial impressions: In an area that has no shortage of red sauce joints, Prima Pizza and Pasta has plenty of competition. But our guess is that Glenn Pacicca has yet another winner.
I welcome your comments, and encourage you to send feedback to me at tina@verobeach32963.com.
The reviewer is a beachside resident who dines anonymously at restaurants at the expense of Vero Beach 32963.
Prima Pizza and Pasta
Hours: Monday to Saturday, 11 a.m. to 9 p.m.
Beverages: Full Bar
Address: 1920 14th Ave., Vero Beach
Phone: 772-217-3171