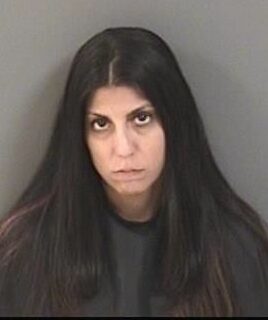 VERO BEACH — A 37-year-old woman known for her community involvement had at least 25 sexual encounters with an underage boy, reports show.
The boy's father discovered sexually explicit text messages between Valerie Esposito and his son, officials said. In a recorded phone call, Esposito admitted to the acts and later told police she sent several nude pictures and videos of herself to the teenager.
The youth, now 17, was 16 years old when the incidents occurred, reports show.
Esposito, of the 2500 block of Langrove Lane, Vero Beach, was originally arrested Oct. 15 on three counts of sexual battery on a child and lewd computer solicitation of a child. Esposito was held Wednesday at the Indian River County Jail on $200,000 bond.
Esposito works for Schlitt Insurance Services. In September, she was given a 2019 Volunteer of the Year Award from the Indian River County Chamber of Commerce for her work at different chamber events throughout the year.
On Oct. 7, the boy's father searched the teen's phone, found the messages between the boy and Esposito and then called police. The father confronted his son, who confessed to having sexual relations with Esposito on several occasions.
Most of the encounters took place at a home, police said.
The father brought his son to the police department. The boy told police Esposito initiated most of the sexual encounters, with the most recent one happening at least a month ago, reports show.
Police went to Schlitt Insurance Services on Oct. 8 and spoke to Esposito. Esposito said she sent the explicit images to the boy because she was being "naughty," reports show.
Officers arrested Esposito and took her to the county jail. Esposito has an arraignment at 8:45 a.m. Dec. 6, court records show.