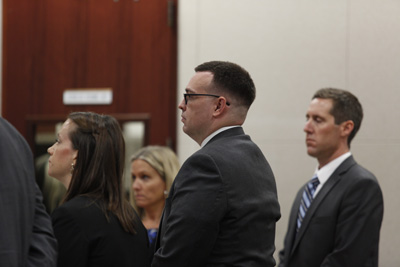 VERO BEACH — Friday morning, Michael David Jones' three-member defense team will take the helm of the first-degree murder trial of accused killer Michael David Jones.
Jones, 36, is charged with the premeditated killing of his girlfriend, 26-year-old Diana Duve in June 2014. Police say Jones strangled Duve to death, then drove her body to Melbourne and left her in the trunk of her own car in a Publix parking lot.
For the past four days, prosecutors have worked at establishing Jones' guilt with physical evidence,  security video footage and photographs, cell phone records and, on Thursday afternoon, DNA evidence. Test results showed evidence of Duve's DNA in the garage of Jones' townhouse, and also on a black belt from Jones' closet that was collected after ligature marks were found on Duve's ankles and thighs.
Assistant Public Defender Stanley Glenn cross-examined witness Earl Ritzline, who retired from the Indian River Crime Lab in 2016 after 28 years but worked as a criminologist there in 2014 when the evidence from the Duve case was analyzed. Upon questioning, Ritzline could not say for sure that the DNA or evidence of blood in the garage that crime scene technicians found was merely days old, or possibly weeks old.
No blood or viably testable DNA material was found anywhere in the townhouse other than the belt and a section of the garage. None of Jones' DNA was found under Duve's fingernails, all of which were clipped by crime scene techs and tested by the lab. A clump of hair was found on the carpeted stairs of Jones' residence but it could not be tested or compared at the Indian River Crime Lab with the technology available, according to Ritzline.
Assistant Public Defender Dorothy Naumann pointed out that the carpet in the residence was generally dirty throughout and the hair could have been there for some time.
The last few witnesses on Thursday – friends, co-workers and acquaintances of Jones – testified to text message exchanges with Jones in which he said he was okay and not missing, and in which he speculated on various reasons why Duve had gone missing, saying she was "pulling something" or that he was in effect being framed.
Jones criticized Duve and her mother as his texts to friends grew anxious. He told them he was in Vero at the time police say he was in room 421 at a Fort Pierce Hampton Inn.
After the State rested its case at the end of the day, the defense made a motion for Jones to be acquitted, saying the Prosecution had not proven its first-degree murder case, but Judge Dan Vaughn denied that motion. The trial continues Friday and is expected to run into Monday.
The defense has stated that it will call to the stand a former Orange County medical examiner, Dr. William R. Anderson, to present his own findings on the cause of Duve's death to counter the testimony of Brevard County Medical Examiner Sajid Qaiser who performed Duve's autopsy.
Qaiser, in his testimony Wednesday, pointed out numerous elements he said showed him Duve died of manual strangulation.
Staff Writer Nick Samuel contributed to this report.