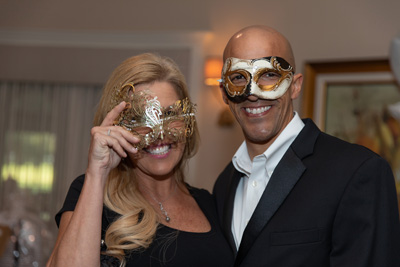 An air of mystery surrounded the fifth annual Black and White Centennial Masquerade Ball at the Vero Beach Country Club last Saturday evening, hosted by the Exchange Club of Indian River Foundation.
Masked Exchangites, adorned in feathered, lace and beaded finery, enjoyed cocktails and hors d'oeuvres while perusing a variety of silent-auction items and often trying to determine of the person who just passed by: "Who was that masked man or woman?"
The evening's theme of Bringing it Back to 1919 harkened to the era of black and white in recognition of the 100th anniversary of Vero Beach. Centennial co-chairs Tammy Bursick and Tony Young were honored for the tireless number of hours they have dedicated to the year-long anniversary celebration.
Attendees cast off their veils of mystery to sup on a sumptuous surf and turf dinner, and later had some fun in the photo booth before dancing the night away to the sounds of the Bobby Owen Band.
A spectacular cake made by Exchange Club secretary Angela Cletzer was a sight to behold. The tiered black and white cake paid homage to the city's centennial with images of historic Vero Beach.
The cake was almost too pretty to eat, until folks realized that hidden inside were luscious layers of chocolate, vanilla, creamsicle, lemon and key lime. It was an apt reminder that the beauty of Vero Beach is matched only by the philanthropic community inside the city.
Event emcee Anna Valencia Tillery doubled as its auctioneer, cajoling attendees to bid on live-auction items, by reminding them that proceeds would help fund local projects focused on the prevention of child abuse to support the club's mantra: "We believe every child should have the opportunity to grow up healthy, safe and strong."
The Exchange Club of Indian River is an all-volunteer service organization that has served the community since 1973 in the areas of "Americanism, Community Service, Youth Activities and the prevention of child abuse." Its members have supported youth-related projects through programs at such nonprofits as Youth Guidance, Children's Hibiscus Center, CASTLE and Dasie Hope Center.
Members meet Wednesdays for lunch at C.J. Cannon's Restaurant, generally inviting speakers on topics relating to business, government, charity, personal and professional areas of interest.
Upcoming events include the March 7 Toss Out Child Abuse Charity Cornhole Tournament, and they will again partner with the Vero Beach Air Show on April 25-26.
For more information, visit exchangeclubofindianriver.org.
Photos by: Denise Ritchie
Click HERE to see more or buy photos