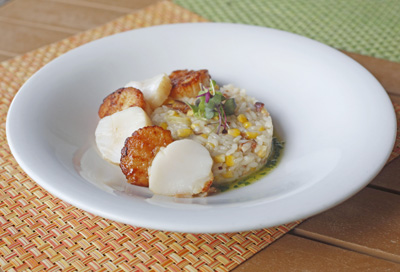 Two weeks to the day after undergoing a quadruple bypass at Cleveland Clinic Indian River Hospital, I climbed the front steps of the Citrus grill to enjoy a great meal – and resume writing the 32963 weekly dining column.
Any readers have a story of a swifter recovery than that? If so, I'd love to hear from you.
But for me, getting back into the swing of my heretofore active dining life seemed like the best way to move beyond memories of a cardiac crisis that caught me totally by surprise.
Recently concluded tests had provided no hint of an impending heart attack, or that the foods I have enjoyed eating all these years had clogged the arteries surrounding my heart to such an extent that reopening them with catheterization was impossible.
So now, as I slowly get past the soreness of a healing chest (a few more weeks, they tell me), I need to focus on the changes required to keep my grafted arteries open for years to come.
I also intend to infuse a bit more information about the cholesterol content of entrées in the restaurants I review (without being totally obsessive about it) in the hope this may enable readers to enjoy fine dining while avoiding a hospitalization of their own.
Fortunately for me, before this latest visit to Citrus, I had discovered that one of my favorite dishes – Chef Scott Varricchio's pan-seared sea scallops ($32) – is highly recommended from a health standpoint as well as being absolutely delectable.
Scallops, it turns out, in addition to being low in cholesterol, are an excellent source of a very important nutrient for cardiovascular health, vitamin B12. They were served on this evening with a sumptuous (and largely cholesterol-free) truffle potato-leek risotto.
Six days later, after a three-week checkup at which my wonderful surgeon, Dr. Mark Malias, declared me a success story and expressed the hope he would not be seeing me again professionally, I felt the need for some red meat and we headed this time for the Amalfi Grille.
The American Heart Association lists a half dozen lean cuts of beef as meeting its criteria for "heart healthy," but that was not what I had in mind.
I was craving beef Pittsburgh style (or black-and-blue, as some of you know it), and no restaurant locally does this better than the Amalfi. However, this grilling method – in which the outside of the steak is charred at extremely high temperature while the inside remains rare or medium-rare – requires beef fattier and higher in cholesterol than the AHA's recommended lean cuts.
Oh well, Dr. Malias said I should eat anything I craved for a month as I regained strength. And on this evening, the Amalfi's prime center-cut N.Y. strip ($45) – which solicitous proprietor Bob Rose made sure was perfectly seared, locking in all the juices and flavor – was indeed spectacular.
Before ending this comeback column, I also want to thank readers who somehow learned of my bypass, and sent get-well cards and flowers.
Of the various gifts from well-wishers in the early days after I returned home, I confess to having been most delighted by the one sent by Chef Varricchio – a roasted chicken. I have long viewed roast chicken as the ultimate comfort food. To me, fresh off hospital food, this chicken tasted even better than the Thomas Keller chicken I enjoyed a year ago.
Finally, there's a lot of advice out there about how to eat healthy. Some of the wisdom seems to change from week to week. The exhortation I like best is that of the ancient Greek philosophers who counseled moderation.
I intend to try to follow a heart-healthy diet, but I also intend to find room when dining out to savor foods I love. And God willing, I hope to be enjoying new dining experiences – and telling you about them – for years to come. Bon appétit.
I welcome your comments, and encourage you to send feedback to me at tina@verobeach32963.com.
The reviewer dines anonymously at restaurants at the expense of Vero Beach 32963.