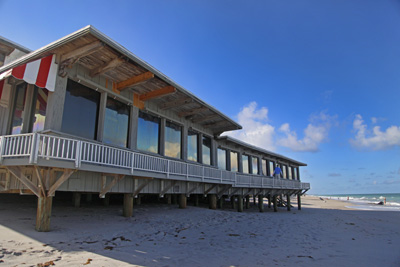 If you've gone to the Ocean Grill for lunch the past couple of years, you might've noticed men wearing tank tops or baseball caps while seated at tables and wondered:
Doesn't this place have a dress code?
In fact, the iconic beachside restaurant's website clearly states: "We ask that our guests refrain from wearing tank tops and beachwear."
The website, though, needs to be updated – because Ocean Grill owner Charley Replogle said last week the restaurant now allows men to wear tank tops at lunchtime.
"We don't allow it for dinner," Replogle said. "And, frankly, we don't get very many guys here in tank tops, anyway. They usually go to Mulligan's. But we do occasionally get people who come in off the beach for lunch, and we didn't want to keep turning them away."
So Replogle's son, Joey, who manages the upscale restaurant, decided more than a year ago to ease the lunch-hour dress code to allow men to dine in tank tops and even wear baseball-style caps.
When tank-top wearers do come in, Replogle said, it's usually on weekends, particularly on Saturdays.
"Nobody really wants to look at men's armpits when they're eating, but in this day and age, when everything is so casual, it didn't make sense to say no," Replogle said. "Besides, we didn't want to pick a fight with guys who'd point to women and say, 'She's wearing a tank top,' or 'She doesn't have sleeves.'
"There are some people who don't like it, especially some of our older customers, who also get upset because we don't make guys take their hats off," he added. "But, like I said, we don't get very many people in tank tops, so it really hasn't been an issue.
"We don't allow them for dinner."
Replogle described the Ocean Grill's evening dress code as "casual resort wear," which, for men, includes long- or short-sleeved shirts, slacks or dress shorts – jeans, too, are allowed – and some type of footwear, though he said, "We don't look at people's feet."
Caps may not be worn during the dinner hours. Swim trunks are not permitted at any time of day.
"Some people think we should require men to wear jackets," Replogle said, "but we don't do that."