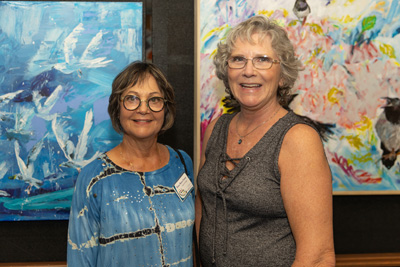 The Sebastian River Art Club was the host for the fifth annual Indian River Bird and Nature Art Show, which benefited the SRAC and the Pelican Island Preservation Society. The event kicked off a full week of activities in celebration of Oct. 13-19 as National Wildlife Refuge Week. Showcased was the Pelican Island National Wildlife Refuge, designated as the nation's first by President Theodore Roosevelt in 1903.
Birders and artists gathered Friday evening at a reception for the weekend show of works which captured the beauty of nature in a variety of mediums. Where once our area's spectacular birds were shot for their feathers, they are now only shot by cameras or captured on canvas as a way of preserving their splendor.
Guests perused roughly 80 submissions by 49 area artists and offered their congratulations to all who had been chosen for ribbons by judges Karen "Keko" Ekonomou, Ginny Piech and Barbara duPont.
Members of PIPs were also on hand to enlist volunteers in their efforts to support our local refuge as well as the National Wildlife Refuge System in general and its conservation of habitats and wildlife.
Other activities included a talk on Saturday by keynote speaker Dr. Llewelyn Erhart, an expert on the Pelican Island and Archie Carr national wildlife refuges, and the founder of the Marine Turtle Research Group at the University of Central Florida.
A Sunset Wine & Cheese Cruise to Pelican Island was so popular, event organizer Debbie Avery said they could have added another, noting, "Next year, we're going to try a sunrise cruise on Sunday morning."
It is not too late to join in on the festivities. Staff and volunteers from PINWR, PIPS and the Pelican Island Audubon Society will host a tree planting ceremony from 8 a.m. to 10 a.m. on Friday, Oct. 18. Additionally, from 11 a.m. to 1 p.m. on Saturday, Oct. 19, there will be a Meet-and-Greet at PINWR's Centennial Trail where people can learn more about the refuge. Limited tram rides will also be available.
For more information, visit firstrefuge.org.
Show Winners
Best in Show: Susan Lavendar for "Shore Bird."
First Place in 2-D: Anne Whitney for "Storks at Corkscrew Swamp."
First Place in 3-D: Floyd Markowitz for "Flamenco Hibiscus, Apollo."
First Place Photography: Patti Corapi for "Anhinga."
Photos by: Denise Ritchie
Click HERE to see more or buy photos