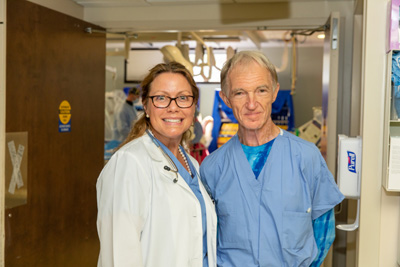 Jennifer Konowitz, a nurse practitioner at Sebastian River Medical Center's cardiac catheterization lab, has set her sights on something new.
Better care for older patients.
Konowitz is currently enrolled in post-master's classes at the University of Central Florida seeking to obtain an advanced – and still quite rare – certification as an "Adult-Gerontology Acute Care Nurse Practitioner."
If you've never heard of that, you're far from alone. Geronotolgy isn't your grandpa's version of what used to be called "geriatrics."
Unlike geriatrics, which tended to concentrate solely on the medical aspects of aging, gerontology adds the mental, social and societal implications of aging to those physical effects and has been embraced by some high-powered medical schools.
Johns Hopkins says Adult-Gerontology Acute Care Nurse Practitioners "bring a deep respect for the people they care for and a commitment to working with patients, family members and caregivers to ensure quality of life and health."
The University of Georgia's medical school says "gerontology is the study of aging across the life course. It encompasses the social, psychological, and biological aspects of the aging process."
NursingLicenseMap, an online resource dedicated to helping those interested in advancing their nursing careers, reports "the role of the adult-gerontology acute care nurse practitioner is to provide advanced nursing care to adult, older adult and elderly patients with acute, chronic and critical conditions. The AG-ACNP works collaboratively with a host of different health care professionals in order to stabilize and improve the health of patients."
That is a valuable skill set now and going into the future – according to projections from the Pew Research Center, about 1-in-5 Americans will soon be over age 65 and about 5 percent will be age 85 and older.
Konowitz says the AG-ACPN certification she's seeking is "fairly new," but quickly adds that even in her current position in the cath lab, "most of my patients are acutely ill. So whether it is an acute exacerbation of a chronic illness that they're experiencing or a new diagnosis, when they're here they're not well," and she says she wants to do more to help them.
How much more?
When she completes her studies, says Konowitz, she'll be able to intubate patients (insert a tube, called an endotracheal tube through the mouth and then into the airway so a patient can be placed on a ventilator to assist with breathing during anesthesia, sedation, or severe illness) and perform thoracentesis (procedures in which a needle is inserted into the pleural space between the lungs and the chest wall to remove excess fluid to help patients breathe more easily).
She will also be able to perform a host of other tasks that, she adds, "you would normally only really see an intensivist [critical care physician] or possibly an emergency room physician doing."
"I feel it's so critically important for me to know the proper way to do these procedures," Konowitz exclaims, "along with what tests to run afterwards and how to follow up with those patients."
The SRMC physician who undoubtedly knows Konowitz best is Dr. Charles Croft, and he makes clear how he feels about his protégé: "We've been working together for a long time," Croft says. "Since 2012. She appeared out of nowhere and has really been a rock around here. She's the person who sees all the patients, organizes them, assesses them and now she's getting [even more] practical experience.
"She's a great person," he concludes, having no apparent doubt this advanced certification is easily within Konowitz's grasp.
She agrees. "I felt when this new post-master's certification came about, I was going to try for it, and when I called my Alma Mater – the University of Central Florida – I was excited to learn that they were, in fact, one of the only ones offering this."
The one fly in this particular ointment is time. With her fulltime work at the SRMC cath lab, Konowitz's course schedule is, well, challenging. Mostly nights and weekends with a lot of commuting time in between.
January will be the start of Konowitz's final semester and then she'll take her national board exams.
If all goes well, by June 2020, she will have earned her Adult-Gerontology Acute Care Nurse Practitioner designation and local seniors will begin benefiting even more than they already do from her efforts and dedication.