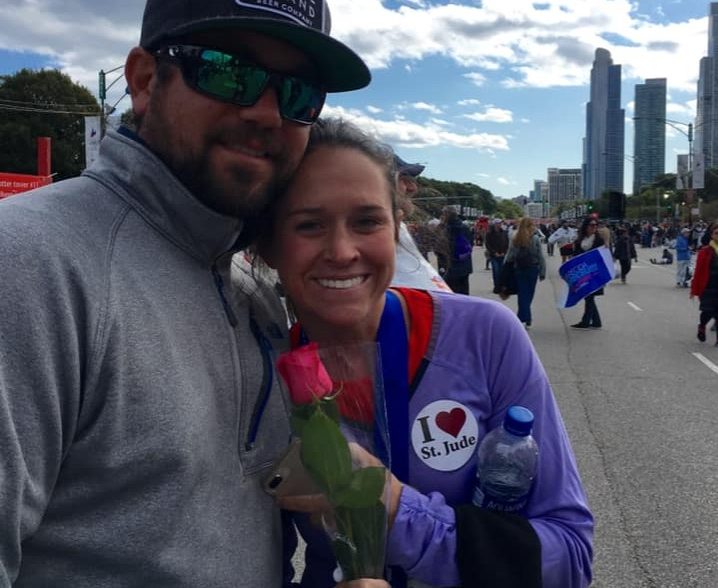 Rikki Bischoff didn't think twice about running the 26.2-mile Chicago Marathon on Sunday to raise money for children battling cancer.
About an hour before the St. Edwards School teacher walked to the starting line, the 37-year-old Vero Beach resident talked with a 4-year-old named C.J. The boy had just finished his cancer treatment at St. Jude Children's Research Hospital and was in remission.
Bischoff said little C.J. had a 10 percent chance of living when he was first diagnosed with the deadly disease as a baby. Without missing a beat, the teacher said children like C.J. was why she came to Chicago.
"When I was trying to think of an organization, St. Jude's was the first I was drawn to," said Bischoff, a St. Ed's alumna. "After researching stories of families at St. Jude's, it was a no brainer. They looked to us as heroes."
Children like C.J. inspired Bischoff to become at St. Jude's Hero, a program allowing runners to raise funds for families so they won't have to pay hospital bills for their sick child.
Months before the marathon, Bischoff got her children involved with the fundraiser by setting up lemonade stands in the neighborhood. Bischoff also asked for donations from friends and family.
Bischoff said she was able to raise $3,700 to go toward St. Jude's.
"I (realized) I was running for something bigger than myself," Bischoff said. "That made this whole process a lot more meaningful."
Bischoff started training for the 42nd Annual Bank of America Chicago Marathon in February. This year's race had more than 45,000 participants from all over the nation and more than 100 countries worldwide.
Bischoff said she would get up at 4:30 a.m. a few times a week and complete long-distance running on the treadmill and down State Road A1A. Bischoff flew to Chicago on Friday to compete in the race.
Being a Florida girl, Bischoff said it was a challenge getting used to running in the 39-degree temperature with 20 mph winds. Bischoff, who wore the number 57295, said she wore layers of clothing for the marathon.
"I'm not used to training in anything below 95 degrees," Bischoff said.
Bischoff said sometimes runners throw off some of the layers of their clothes during the race. The city of Chicago then collects the clothing and donates it to the homeless community, she said.
The race course started in Grant Park, took runners through 29 city neighborhoods and ended in Grant Park. Bischoff said she started to feel her legs breaking down at mile 19. The teacher said the cheering from 1.7 million spectators is what gave her the energy to finish.
"I was nervous I was going to collapse. In the last mile, my adrenaline picked back up," Bischoff said. "You just get through it and don't stop. Crossing the finish line was great."
Soon after, Bischoff found her husband, Nick, who gave her a flower. Nick Bischoff created a post on social media celebrating his wife's achievement.
"Pretty proud of this girl," Nick Bischoff wrote on Facebook. "My marathon woman. (Despite) the cold and windy conditions, she pushed through and got it done."
Bischoff received a medal at the end of the race, which she finished in five hours and two minutes. Another St. Ed's teacher, Kelly Fykes, also participated in the marathon about 10 years ago.
In 2018, the Chicago Marathon raised $22.8 million for more than 160 charities, according to the event's Executive Race Director Carey Pinkowski.
"It's a great success and added motivation for (runners)," Pinkowski said. "It's philanthropic and generous. It's part of the culture and our participants enjoy doing it."
This was not Bischoff's first marathon. The teacher said she also participated in the International Peace Marathon four years ago in Washington D.C.
Bischoff, who has taught at St. Ed's for seven years, has three children. Baylin, a third-grader, and Marley, in kindergarten, both attend St. Ed's.
Bischoff said her youngest, Nick Jr. who goes by "Bear," is 3 years old. Bischoff's husband, Nick, owns Sailfish Brewery in Fort Pierce and is the vice-president of sales at family-owned Vero Beach Roofing.
Bischoff said her family was very supportive and excited for her throughout the whole experience.
"I am fortunate enough to have three healthy children. So I felt like this was a positive way for me to give back," Bischoff said. "Fundraising while training made this experience far more meaningful than I ever could have imagined."