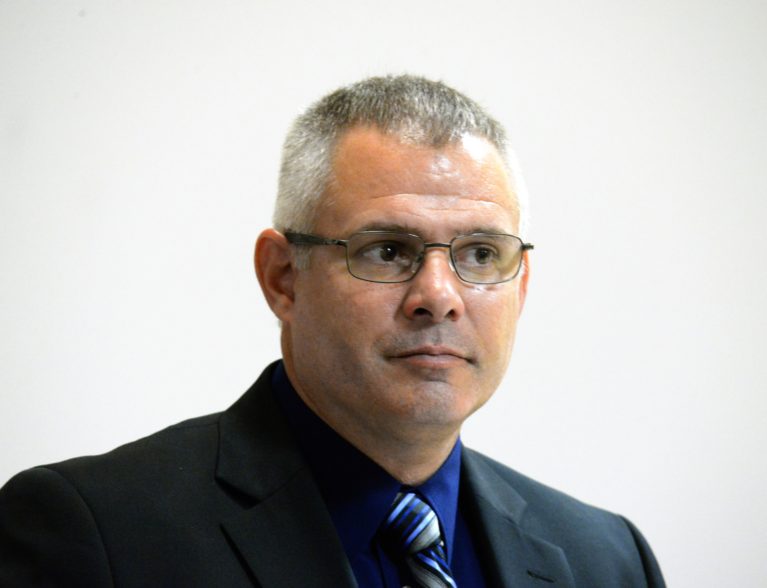 VIERA — Pet ownership – including which breed and how many dogs and cats – were a point of emphasis Oct. 15 at the Brevard County Courthouse in Viera where a six-person jury was set for a Sebastian Police Officer charged with cruelty to animals following the April 28, 2017 death of his K-9.
Eric Michael Antosia, 43, of Melbourne, faces one charge of cruelty to animals, a first-degree misdemeanor with up to a $5,000 fine in the death of Diesel, which had been left in his patrol vehicle for several hours after he forgot to remove the dog after he had attended a hearing in Melbourne.
Melbourne defense attorney Greg Eisenmenger is representing Antosia while Assistant State Attorney Michael Hill will prosecute the case. Brevard County Circuit Judge Kelly Ingram is presiding over the case, expected to last most of the week.
Antosia, a police officer for more than 20 years, had been a K-9 handler since 2001. Diesel was his second K-9 for about a year.
As jury selection progressed, prospective jurors, including those with strong feelings about animal cruelty, were asked if they could set those opinions aside while they consider the case. The state has to prove both that there was a crime committed and, if so, that Antosia was the one who committed the crime.
Defense attorneys asked each juror what makes them happy, their hobbies and if they had pets or had been around K-9 training or service dogs. Several had multiple pets, including more than one dog.
A final question asked to finalists for the panel: "Do you believe a crime has occurred because the state filed criminal charges?'' 
Those who answered no were chosen for the panel for not having pre-conceived opinions in advance of evidence to be presented during trial.
The trial is set to begin with opening arguments on Wednesday Oct. 16.
Photos by Julian Leek