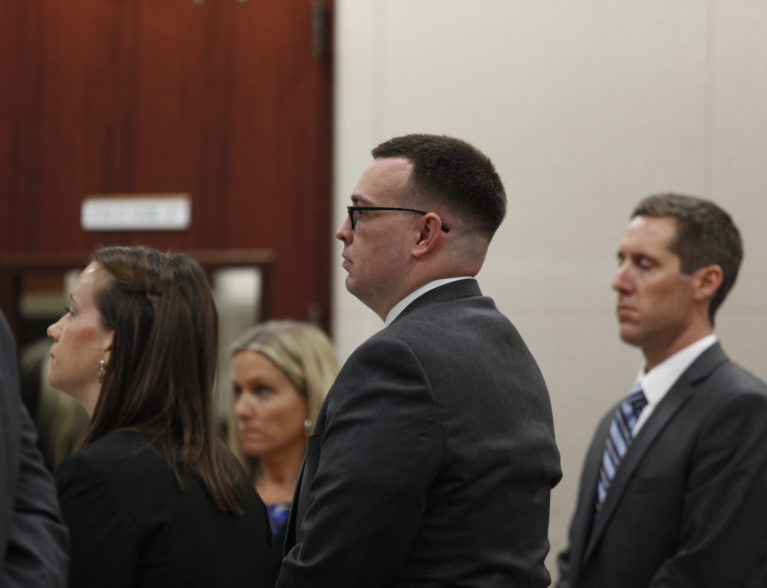 VERO BEACH – In Tuesday morning's session of the first-degree murder trial of accused killer Michael David Jones, prosecutors continued to lay out the narrative of Jones' movements and actions in the days surrounding the death of Diana Duve in June 2014.
A PNC bank teller testified to Jones withdrawing $2,500 cash and saying he was going on vacation on June 20, 2014 — the day police say Duve died by manual strangulation. 
Jones had worked at PNC Wealth Management on Ocean Drive before his arrest, and on Monday the executive assistant and office manager who worked with Jones at PNC testified Jones had texted her that morning of Friday, June 20, 2014 to say he would not be in because he was sick. She said Jones asked her to cancel a lunch meeting for him.
After the teller was released from court, attention turned to technical evidence gleaned from cell phone records.
Assistant State Attorney Brian Workman presented large-scale maps on which technician and witness Greg Guillette of Gladiator Fast Forensics took raw data provided by AT&T and Verizon and plotted which cell towers the phones of Duve and Jones had utilized for calls, texts and data. 
Assistant Public Defender Shane Manship cross-examined Guillette about his education, certification and methods of arriving at the mapped locations.
At the lunch break, a total of 16 witnesses, including two Vero Beach police detectives and Duve's mother Lena Andrews had been called since the trial began on Monday. 
Testimony continues Tuesday afternoon, with the trial expected to continue for up to one more week in the courtroom of Judge Dan Vaughn.