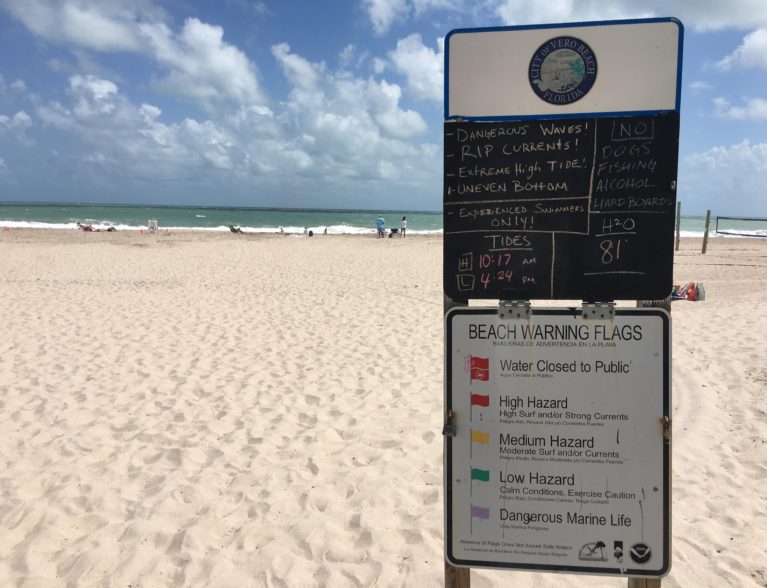 INDIAN RIVER COUNTY — Weather officials issued a rip current advisory Monday morning for several coastal areas, including Indian River County.
National Weather Service in Melbourne issued the high rip current advisory at 7 a.m. Monday from Martin County to Volusia County. The advisory will last through the evening.
Forecasters said the life-threatening rip currents will be present all day. The threat will be highest between noon and 6 p.m. because of the tidal cycle.
Rip currents are powerful channels of water flowing quickly away from shore. They occur most often at low spots or breaks in the sandbar and near jetties or piers.
Weather officials said long-period northeast swells will form strong rip currents Monday in the surf zone, posing a threat to all swimmers. Officials strongly discouraged beach goers from going into the surf.
Beach goers should listen to lifeguards and pay attention to beach patrol flag signs. Anyone caught in a rip current should relax, float and not swim against the current, officials said.
Swimmers should float in a direction following the shoreline. Those who are unable to escape should face the shore and call or wave for help.
Rough surf caused a 25-year-old man to drown at South Beach Park earlier this month. The man – identified as Bogyu Choe – was struggling in the waves before he went under, reappeared floating and unconscious, Vero Beach police said.
An off-duty firefighter and several others pulled Choe from the water. Choe was taken to a local hospital, where he was pronounced dead, police said.