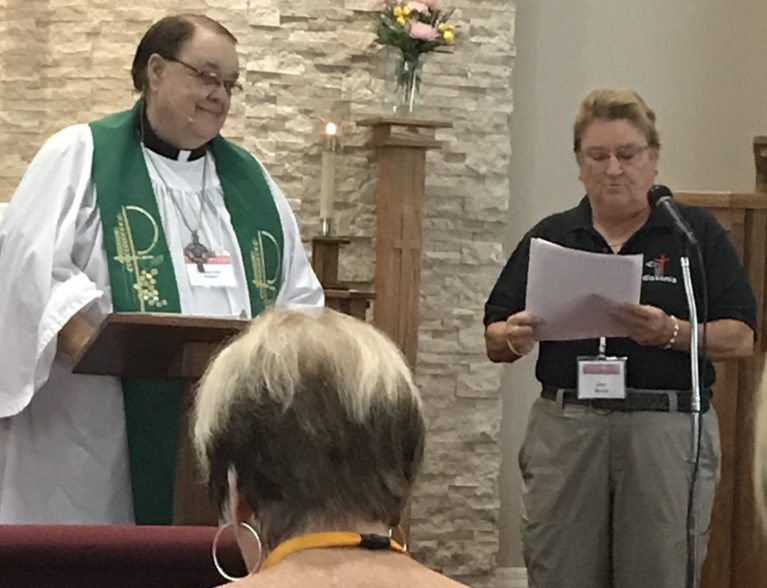 SEBASTIAN — Rev. Dr. Sidney Nelson will serve as interim minister for Christ the King Lutheran Church as the congregation continues its search for a candidate to hold a permanent position, officials said.
Dr. Nelson was installed last weekend at the church, 1301 Sebastian Boulevard, by Council President Jane Burton. Nelson replaces Rev. Karen Leedahl, who retired Sept. 30, officials said.
"I feel privileged to have the opportunity of serving the congregation of Christ the King Lutheran Church. It is a vibrant congregation with many programs for members and a passion for worship and ministry," said Dr. Nelson, who is also an ordained pastor of the Evangelical Lutheran Church in America. "I am also excited about having the opportunity to participate in their many service programs. The congregation strives to meet the needs of those in our community."
Nelson is a professional pastoral counselor and has a counseling office in West Palm Beach.
Nelson served most recently as a staff pastor at Holy Spirit Lutheran Church in Juno Beach. Nelson was also an interim pastor in Miami Springs, Wellington and Pompano Beach, officials said.
Before moving to south Florida in 2007, Nelson served St. Timothy Lutheran Church in Norfolk, Virginia, for 30 years, officials said. Nelson was also a pastor in West Virginia.
Education was also important for Nelson.
The pastor received his doctorate degree in pastoral psychology from Boston University in Boston, Massachusetts. Nelson also studied theology and psychology in several graduate schools including Southern Seminary, Columbia, South Carolina; Virginia Tech, Blacksburg, Virginia; and the Rational Emotive Behavior Institute in New York City, New York.
Nelson and his wife, Sarah Valenti Nelson, live in Lake Worth. The couple has three grown children, officials said.
Nelson and his wife have a passion for traveling and recently returned from a trip to China.