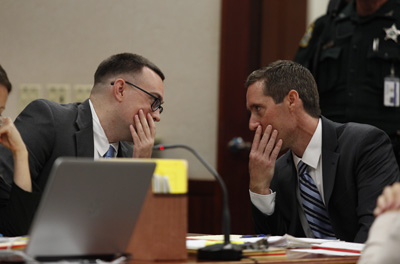 UPDATE: A jury has been seated and the first-degree murder trial of accused killer Michael David Jones is scheduled to begin 9 a.m. Monday with Judge Dan Vaughn presiding.
---
(Published Thursday, Oct. 10, 6:48 p.m.)
VERO BEACH — Attorneys are hoping to finish questioning the 70 remaining people in the jury pool by lunchtime on Friday, leaving the afternoon to haggle over who will ultimately be chosen to render a verdict on the guilt or innocence of accused killer Michael David Jones.
Thursday morning was spent configuring and reviewing a new seating chart for the people who remained from the 200 originally summoned two weeks ago.
Chief Assistant State Attorney Tom Bakkedahl spoke with jurors for more than three hours about reasonable doubt, types of evidence, following the law, using common sense and determining the credibility of witness testimony.
After Bakkedahl concluded his lecture and questioning jurors by name to learn more about them and their life experiences, Assistant Public Defender Dorothy Naumann at the very end of the day gave the prospective jurors a brief overview of topics to be discussed on Friday. She reminded the group of the severity of the proceedings before them and told them that Bakkedahl's goal is to convince them "to execute this man," she said, referring to Jones, who was seated at the defense table.
The jury pool is due back at 8:45 a.m. to resume working with Naumann, who asked for honest answers from them and promised to talk about all the feelings or reasons potential jurors might harbor that would prevent them from returning a not guilty verdict — even if the prosecution had not done its job proving the State of Florida's case beyond a reasonable doubt.