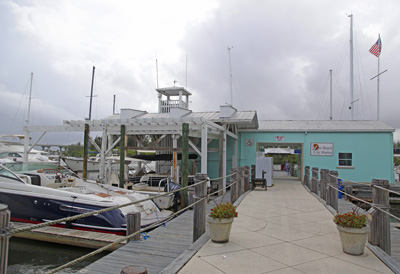 The City Council has decided to move forward with a major revamp and expansion of the deteriorating Vero Beach Municipal Marina that could take up to two decades to complete.
The board in a 4-1 vote last week chose the most dramatic among several possible facelifts for the dilapidated facility, which will include new dockage along the southern shoreline, a one-way drive with angled parking near the dog park, an expanded mooring field and a pedestrian bridge from the marina to Riverside Park.
The project – which Councilman Robert Brackett anticipates could take 10 to 20 years to compete – also calls for the replacement of the northern dock to relocate it farther north; demolition of what's known as the lagoon dock and an increase in the number of slips on that dock; repair or replacement of the floating dock; additional vehicle parking; repair or replacement of the dry storage building; and dredging near docks to open moorings for larger boats.
An office building on the property formerly occupied by the Waddell Insurance agency is in good condition and could be rented out to a new tenant if the city so desires, or demolished to create more parking.
"It's not going to happen overnight," Brackett said, adding the plan is not set in stone and can be tweaked by the current or future councils.
The dissenting vote belonged to Councilwoman Laura Moss, who was skeptical of the plan because it was short on specifics.
Coastal Tech-G.E.C. Inc., a local engineering firm the city hired earlier this year for more than $100,000 to come up with concept plans for the marina's redevelopment, outlined three redevelopment options that varied in intensity, but did not have details about how many parking spaces and boat slips would be added. The company also lacked specifics on the cost and revenue a new marina would generate.
"We don't really don't know anything," Moss said. "We know very little."
Coastal Tech representatives plan to come back to council at a later date to present the facts and master plan Moss was seeking, city officials said, adding the project will be built in phases.
"It's important to point out that just having the master plan doesn't give anybody any authorization to do something," City Manager Monte Falls said. "Every stop along that road map will have to come back to council for approval."
The council's choice was applauded by some who said the changes are long overdue, but the decision drew opposition from some Central Beach residents who believe the renovation will bring mega yachts and commercial businesses to the site along with traffic congestion. Environmentalists also voiced concerns about waste from even more boats being dumped into the ailing Indian River Lagoon.
Although the expansion concept calls for additional and bigger boat slips, mega yachts – boats 78 feet or longer – are expected to steer clear of the city since they tend to dock in Palm Beach, Fort Lauderdale and Miami, Marina Manager Sean Collin has said to quell concerns of island residents.
"We cannot support expansion without clarity on issues pertaining to preventing further pollution of the lagoon," Indian River Neighborhood Association Executive Director Dan Lamson said.
But Mayor Val Zudans said the new design will improve the health of the lagoon because it will include individual pumps at each slip to dispose of waste.
"We can't just assume it's going to be worse just because we're changing something," Zudans said.
The marina, located at 3611 Rio Vista Blvd., is comprised of roughly 100 narrow slips made for older, smaller boats. The facility can accommodate some 50- to 70-foot boats and has one slip for a 100-foot boat. Some parts of the facility standing today were constructed in the 1930s.
The city earlier this year put the marina in a better financial position by using $2.9 million from the sale of Vero Beach Electric to pay off the remainder of a $4.7 million loan taken out in 2007 for the marina.
Loan payments were draining $338,000 a year from the marina's budget, leaving the enterprise fund too strapped for cash to keep up with needed repairs or undertake expansion.