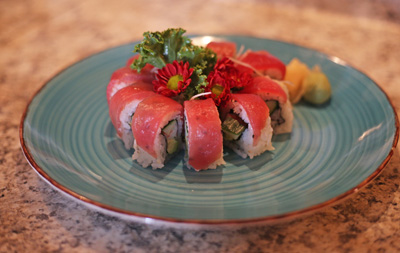 Continuing our tour of some of the best Asian eateries in the Vero Beach area, we headed to Sumo House Japanese and Thai Restaurant for lunch last Wednesday. Our party expanded to four when we bumped into a co-worker in the parking lot, so we filled our entire table, both with people and with interesting food to pass around and share.
We began our meal with three appetizers, of which the Spicy Tuna Salad ($10.95) was a real winner, with a generous helping of cubed tuna, good-sized chunks of avocado and orange, thinly sliced cucumber and crunchy tobiko (flying fish roe), all marinated in a light dressing of soy sauce and rice wine vinegar that brought out the bright, tropical flavors. Very fresh and tasty.
The best thing about the deep-fried Thai Spring Rolls ($3.95) was the sweet garlic dipping sauce. The Chicken Satay ($8.95), "grilled Thai style," was a generous five meaty pieces, but the skewered chicken breast was maybe left on the fire a minute too long and was not as moist as it could have been. This dish, too, was greatly improved by the accompaniment – a peanut sauce and sweet chili garlic sauce that were both quite nice.
The popular lunch specials at Sumo House are a good value for the generous portions of food served fast, hot (or appropriately cold) and fresh.
The Scallop Bento Box ($13.95) one of my companions chose was a delightful, sectioned box of goodies, something we all dipped our chopsticks into, with nicely seared scallops and vegetables cooked in a sweet Teriyaki sauce, plus three plump pieces of sushi – tuna, salmon and a white fish – and three pieces of luscious tuna sashimi. Other sections held half a California roll and the daily appetizer, lightly tempura-battered fish with a yummy spicy sauce.
Another companion opted for the Combo Roll Special ($10.95) which, like the Bento Box, came with a miso soup or salad. Out of the 16 different rolls listed, she chose the JB roll and the spicy tuna roll. Both were very good, exactly what you'd expect of the dish.
The Chicken Pad Thai ($8.95) was another hit; a large portion of rice noodles, good-sized pieces of chicken, bean sprouts and scallions in a slightly sweet, peanut-based sauce, served with miso soup and a Thai Spring Roll just like our appetizer.
The nest of sautèed rice noodles arrived steaming hot and thickly coated with a savory-sweet sauce. There were enough tender pieces of chicken to accompany every mouthful. Bits of scallion, bean sprout, egg, and ground peanut complemented the sweet, nutty flavor.
The meal was generous with plenty to share with lunch companions and still have leftovers. Sumo House presented a beautiful iteration of the traditional Thai dish without all the spiciness, which tends to overwhelm the other flavors.
Knowing I'd be snacking some sushi and seafood off my companions' plates, I opted for something different, Vegetable Soup ($4.50) and Yum Beef Salad ($9.95). The big bowl of steaming hot soup was just the comfort food I needed; it tasted Grandma-made, my gold standard for soup. From the grilled beef to the greens to the savory sweet-sour-slightly spicy dressing, my salad was a great choice.
Service at Sumo House is friendly and the atmosphere is cozy. If you stick with the lunch specials or a sushi roll, your tab could easily stay under $15 per person. Our check for four people was just less than $100, including tip.
I welcome your comments, and encourage you to send feedback to me at lisamelbournebeachsider@gmail.com.
The reviewer dines anonymously at restaurants at the expense of Vero Beach 32963.
Sumo House
Hours: 11:30 a.m. to 3 p.m., and 4 p.m. to 10 p.m., Monday -Saturday; 4:30 p.m. to 10 p.m. Sunday
Beverages: Beer & Wine
Address: 713 17th St., Vero Beach
Phone: 772-770-0835
Photos by: Kaila Jones
Click HERE to see more or buy photos