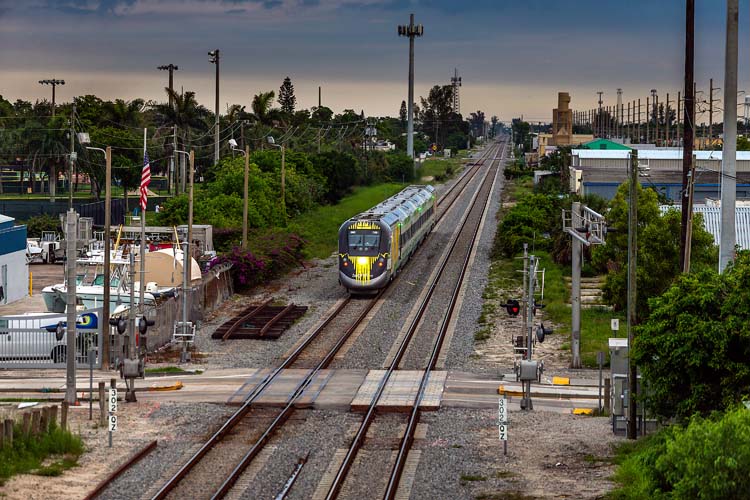 Efforts to establish state safety regulations for Virgin Trains USA passenger rail service are gaining momentum as deaths mount, track construction accelerates and passenger rail projects progress throughout Florida.
Virgin Trains and its predecessor company Brightline killed 22 people from Jan. 1, 2018, through May 31, 2019, federal records show. Since then, media reports attributed seven more deaths to the passenger train. While some of these were suicides, the total number of deaths has attracted legislative attention.
The body count, along with increased media focus on passenger rail and a consultant's report identifying holes in state and federal train safety regulations, is providing a power boost to state Sen. Debbie Mayfield and others campaigning to enhance rail safety.
"The legislation I'm going to introduce next year is going to be directly related to the findings [of the consultant's report] to ensure we have the safety of our citizens in mind," Mayfield said at a press conference last month.
Florida has no regulations for when fencing should be installed along railroad tracks or who should be responsible for the costs, according to an Oct. 31, 2018 report by CPCS Transcom Inc., of Ottawa.
The consultant recommended setting new regulations for trains traveling 81-to-125 mph, including fencing requirements, minimum at-grade crossing standards and state certification of new passenger rail lines.
The consultant also recommended clarifying the Florida Department of Transportation's role in regulating passenger rail systems and cracking down on trespassing along the tracks.
"There's no doubt we are going to have high-speed passenger rail in the state of Florida," Mayfield said. "That's why it's important to get these policies and procedures in place before they start building them."
Last week, FDOT broke six months of silence about Mayfield's rail safety campaign, saying "The department recognizes the concerns with higher-speed passenger rail systems being developed in Florida."
FDOT is developing a computer model for improving safety at railroad crossings, deploying drones along the Central Florida Rail Corridor to study ways of reducing trespassing and encouraging enforcement of trespassing laws, O'Brien said.
FDOT also vowed to work with Mayfield and others concerned about passenger rail safety.
Although past attempts to enact new state regulations have gone nowhere in the legislature, Mayfield and others said they believe the chances are greater in 2020 because of mounting public interest.
"I think it has a better shot this time than it had previously because we have more areas of the state impacted and we're really now getting the evidence as to how dangerous this is," said state Sen. Gayle Harrell referring to the rail safety report.
"Safety is the top priority at Virgin Trains," the company said in a statement following Mayfield's Sept. 10 news conference about her intention to file new train safety legislation in 2020. "We meet and exceed the highest standards set by the Federal Railroad Administration."
But Mayfield and other rail safety advocates said the consultant's report showed the need for state regulations in addition to federal requirements for passenger trains traveling between 81 mph and 125 mph.
State Representatives Erin Grall (R-Vero Beach) and Thad Altman (R-Indialantic) joined Mayfield and Harrell in writing letters to Republican Gov. Ron DeSantis in support of more safety initiatives for high-speed passenger rail.
"I'm more optimistic than I have been because it narrowly focuses on safety and we have been able to show where the deficiencies are in the federal government's oversight," Grall said about her work with Mayfield in the past couple of years to promote rail safety legislation.
"We've both done a lot to educate senior leadership with the governor, and bring other members of the House and Senate to a greater understanding of those issues," Grall said.
The DeSantis administration has not responded to repeated requests by Vero Beach 32963 since March for comment on the consultant's rail safety report and Mayfield's calls for regulations for trains traveling 81-to-125 mph.
Virgin Trains began running passenger service between West Palm Beach and Fort Lauderdale in January 2018 and added a stop in Miami that May. The company started construction on new tracks along State Road 528/Beachline Expressway in June and plans to begin work in Indian River and Brevard counties next summer.
Virgin Trains plans to send 34 trains per day through the Space and Treasure coasts at speeds of up to 110 mph en route between Orlando and Miami starting in summer 2022. The company has also announced plans to extend service from Orlando to Tampa along the Interstate 4 corridor.
Another longstanding proposal calls for the re-establishment of Amtrak service from Jacksonville to West Palm Beach.
Several political observers said the string of train-related deaths, the start of construction and the spread of passenger rail projects have improved Mayfield's chances of winning approval for new passenger rail regulations.
Aubrey Jewett, a political science professor at the University of Central Florida, pegged the odds of the legislature imposing new regulations for Virgin Trains at "50-50."
"I think the governor and legislature will be rightfully concerned about the death toll and safety, both because it is an important policy issue and because politically there may be public pressure to require it," Jewett said.
But Mayfield and her allies would have to overcome the powerful anti-regulation forces in the Republican-controlled legislature, Jewett and other political experts said.
It might be easier to convince DeSantis to direct FDOT to increase oversight of Virgin Trains, Jewett said.
"DeSantis seems to have positioned himself as somewhat of a populist in his governing philosophy and increased oversight to increase safety seems like it might be a good fit for his governing style," Jewett said.
"Still if Virgin Trains comes out strongly against such a move," Jewett said, "the governor might decide that current levels of scrutiny are adequate and the state should not micromanage the project."
Susan MacManus, a distinguished professor emeritus of political science at the University of South Florida, said the fate of any passenger rail safety bill hinges on DeSantis.
"I think it will go how far it will go will depend on the governor's involvement," MacManus said.
"There will probably be more attention paid by legislators in the route to the safety side," MacManus said. "A lot of these regulatory things take multiple tries. My guess is, maybe not this session, but a later session."